Schurter Touts Broad Range of Standard EMC Filters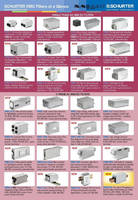 Santa Rosa, California, May 6, 2011 - Schurter recently added several new filters to its already extensive EMC product line. The expansive filter line comes in a wide variety of sizes, shapes, mounting and connection options, as well as varying performance characteristics for meeting all types of application requirements.

The Schurter selection of discrete line filters are offered with features including 1- and 2-Stages for Single and 3-Phase systems, along with a wide range of current ratings and operating voltages in both AC and DC. Terminal options include PCB, quick connect, bolt and nut, screw clamps or wires. Various mounting styles include chassis mount, DIN rail, PCB and screw mount. ECO filters with partial potting are also offered for a lightweight economical and environmentally friendly solution.

Schurter has filters for Standard, Industrial, and Medical (M5 & M80) uses, and industry specific filters built for Industrial Automation, Telecom, and Solar equipment. Schurter also has the capability to build custom solutions for specific applications when a standard filter does not meet the requirement. Typical applications for the filters include Control Systems, Power Supplies, Frequency Converters, UPS Systems, Inverters, and Stepper-Motor Drives.

Schurter's filter products ensure electromagnetic compliance (EMC) and comply with the technical and regulatory standards, as well as meeting international safety standards. Country -specific approvals include UL, CSA, VDE (ENEC 10) and CCC. More information on Schurter EMC line filters, and other discrete filter products including suppression chokes, pulse transformers and drive modules, can be found on Schurter's website schurterinc.com/products/emc-products. For sales and product information contact Cora Umlauf at 800 848-2600 or info@schurterinc.com.

About Schurter Inc.

The Schurter Group was founded in Switzerland in 1933. With its more than 75 years in business, Schurter continues to be a progressive innovator and manufacturer of Fuses and Varistors, Circuit Breakers, Power Entry Modules & Connectors, Input Systems, EMC Products, as well as providing manufacturing services for the electronic and electrical industries worldwide. Schurter's product innovation focuses on safe supply of power and making the interface between human and machine easier. Schurter's market focus is in the area of IT / Telecom, Medical, Space and Renewable Energy. Schurter, Inc. Santa Rosa, California, is the exclusive North American sales and distribution office for the Schurter Group.

Related