SCHURTER Presents 4710-5 IEC Appliance Outlets Equipped with IDC Terminals
Press Release Summary: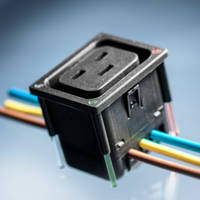 The 4710-5 IEC Appliance Outlets are offered in colors black, white and grey for multiphase distinction and are 16 A rated at 16 A at 250 VAC and 20 A. The unit provides status indication signal for the equipment technician about power surges and sags. It features precision fitted light pipes that support for light pipes in one or all corners of the outlet.
---
Original Press Release:
IEC Appliance Outlet with up to Four Light Pipes
Integrated status indication makes room for increased packing density of outlets in smart PDUs and UPSs
Santa Rosa, California, September 27, 2018 – SCHURTER launches its new series 4710-5 as the next logical evolution of outlets used for the design of PDUs and UPSs. The new IEC outlet series, Type J, rated 16 A at 250 VAC and 20 A according to UL, are equipped with IDC terminals for automating bussed connections of multiple outlets in series, while also providing options for specifying up to four light pipes. 

The new 4710-5 series provides a space and cost saving approach to status indication, which is often used to signal the equipment technician regarding system status of one kind or another, as for instance power surges and sags. Precisely fitted light guides provide support for light pipes in one or all corners of the outlet. The operation of each of the LEDs, mounted on the PCB, is channeled to the enclosure surface to indicate status. The light pipes are ordered as an accessory to be inserted after the outlets have been mounted and wired. Outlets are also offered in colors black, white and grey for multiphase distinction.
The use of IDC terminals is particularly efficient, allowing several outlets to be wired quickly and reliably in a single process step. The phase contact (L) is a PCB terminal for connection of maximum power to each outlet. Quick connect or solder terminals are available on request. IDC terminal configuration supports wiring "along" or "cross" to the outlet pin axis. Selection depends on the design of the PDU and the arrangement of the outlets, vertically (along) or horizontally (cross) one behind the other, orienting the wires to the direction of the strip. IDC terminals accept solid insulated wires, sizes 14-10 AWG.

The new outlet series offers the V-Lock cord retention system. Snap in mounting is designed for panel thicknesses of 1.0 to 3.0 mm, 1.5 and 2.0 mm is standard. Pricing for versions with two light pipes $1.95 each per 100 pieces. The data sheet links can be found in https://us.schurter.com/en/datasheet/4710-5 and more info available at landing page PDU and landing page V-Lock. For sales and product information, contact Cora Umlauf at (800) 848-2600 or by email at info@schurterinc.com. I have attached an image for online publishing.
Contact:
Suzanne Bowser 
Marketing Manager 
SCHURTER, Inc. 
Santa Rosa CA 
707 636 3003 
www.schurter.com
Contact This Company Download Spec Sheet
More from Electronic Components & Devices