SCHURTER Introduces DKIH-4 Series Current-Compensated Chokes Featuring Nanocrystalline Ring Core
Press Release Summary: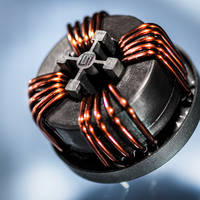 The DKIH-4 Series Current-Compensated Chokes are designed for three phase applications with neutral line from 10 A to 40 A. The units are rated to 500 VAC or 760 VAC and can be operated in -40°C to +100°C temperature range. They are offered in open design with THT mount configuration. The chokes are suitable for use in frequency converter, charge stations and UPS systems.
---
Original Press Release:
DKIH-4 High Current Choke
Santa Rosa, California, December 12, 2018 – SCHURTER expands its successful range of PCB mount current-compensated chokes with a series for 4- wire high-current applications. The series is available for three phase applications with neutral line at rated currents from 10 A to 40 A. Due to the open design, the chokes are particularly compact and lightweight. 

The power system portion of an electronic equipment is increasingly configured on a printed circuit board using discrete components. Dense integration of these components to achieve a compact design, increases thermal problems due to the resulting high currents on the PCB. EMC interference can affect adjacent modules due to the lack of spatial separation. Therefore, a compact filter on the PCB with discrete components is often the best solution. A current-compensated choke with capacitors is the most efficient method of suppressing EMC interference and the DKIH-4, with its nanocrystalline ring core, provides much greater inductance in a smaller footprint over conventional ferrite core chokes. 

The new DKIH-4 series is suitable for three phase applications with neutral line from 10 A up to 40 A. Lightweight and compact, the THT mount common-mode chokes are designed according IEC 60938 and rated 500 VAC or 760 VAC, making them suitable for almost any applications. Temperature range is -40 °C to +100 °C. In addition to the standard versions, customer-specific pin configurations or variants can be created on request. 

Pricing for the DKIH-4 starts at about $20.00 in quantities of 500 pieces. The datasheet link can be found at https://www.schurter.com/en/datasheet/DKIH-4. Applications notes, white papers and spice library for DKIH can be found at https://us.schurter.com/en/Landing-Page/Products-and-Technologies/Common-Mode-Choke. For sales and product information, contact Cora Umlauf at (800) 848-2600 or by email at info@schurterinc.com. 
Suzanne Bowser 
Marketing Manager 

SCHURTER, Inc. 
Santa Rosa CA 
707 636 3003 
www.schurter.com
Contact This Company Download Spec Sheet
More from Electronic Components & Devices