SCHUNK EGL: Intelligent Gripping Module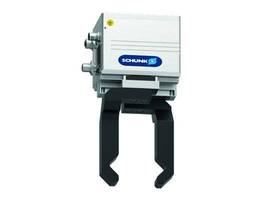 The SCHUNK EGL 70 mechatronic parallel gripper combines power and intelligence. With variable gripping force between 50 and 600 N it is one of the most powerful and flexible mechatronic grippers on the market and was specifically developed for industrial applications.
Since the finger position, closing speed, and gripping force are freely programmable within a maximum stroke of 48 mm per finger, diverse components with a weight of up to 3 kg can be precisely handled in force-fit gripping. The gripper fingers can be prepositioned to reduce cycle times. The entire control and power electronics of the EGL are integrated to save space allowing decentralized operation and even mobile use due to the 24V DC operating voltage.
Standard Profibus DP and CAN-Bus interfaces allow fast and easy integration in higher level system controllers. The gripper also features a USB-port as a service interface. A brushless servo motor ensures continuous and reliable operation with no maintenance required. To maintain the position in the event of a power outage, the gripper features an electrically operated brake.
Since the EGL fulfills industrial standards and the basic version is connected only by means of industrial connectors, installation time is greatly reduced. The powerful mechatronic gripper is compatible with the world's most extensive standardized line of modules for gripper systems from SCHUNK. In combination with quick-change systems and other robot accessories, it can significantly increase the flexibility and efficiency of handling processes. It is ideal for diverse applications in the field of industrial assembly technology, mechanical engineering, and lab automation.
About SCHUNK:
SCHUNK is a German family-owned company and global player in one. More than 2,500 employees in 8 plants and 30 directly owned subsidiaries and distribution partners in more than 50 countries throughout the world ensure an intensive market presence. SCHUNK designs and manufactures an unmatched selection of clamping technology and gripping systems. www.us.schunk.com
Media Contact
Clare Welham
Marketing Coordinator
919-767-1997
Technical Contact
Markus Walderich
Group Manager Automation
919-767-1975