Schneider Presents PowerLogic ION9000 Power Quality Meter with Patented Disturbance Direction Detection
Press Release Summary: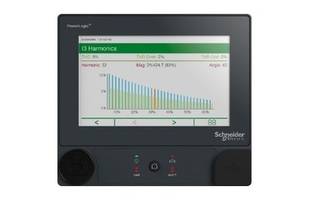 The PowerLogic ION9000 Power Quality Meter is designed to align with comprehensive grid cybersecurity policies and Patented ION™ programmability that allows user to tailor programming to accommodating complex electrical distribution monitoring. The unit's smart power event analysis automatically correlates related trends, events and waveforms depending on time and type of incident. They meet IEC61000-4-30, IEC62586-1 and IEC62586-2 standards and helps to prevent outages, equipment damage, failures and interruption of critical operations.
---
Original Press Release:
Schneider Electric Expands EcoStruxure Power Lineup with the World's Most Advanced Power Quality Meter, the PowerLogic ION9000
2X more accurate than any other meter on the market, unlocking significant energy savings
Onboard power quality and event analysis ensures safer, more reliable, more efficient power in large and critical buildings and infrastructures
Unique, patented ION programmability allows for adaptable, customized power management capabilities
BOSTON, Aug. 29, 2018 /PRNewswire/ -- Schneider Electric, the leader in the digital transformation of energy management and automation, today announced the world's most advanced, most accurate power quality meter, the PowerLogic ION9000 series. With its pace-setting advancements in IoT, event analytics and accuracy, this newest addition to the EcoStruxure™ Power portfolio is the most complete, most innovative power quality meter for critical power applications.     
Powerful Innovations at Five Levels
The PowerLogic ION9000 meter is the latest generation of advanced power quality meters to build on the legendary success of the ION7650. It offers the industry's most advanced capabilities with five core innovations, for those who demand the highest performance from their power networks:
High quality performance, with third-party certified Class 0.1S accuracy – twice the precision of existing energy standards – to unlock significant new possibilities for energy savings, and ensure the meter can comply with the highest performance for revenue grade applications.
Cybersecurity ready, designed to align with comprehensive grid cybersecurity policies, helping to eliminate vulnerabilities to critical power assets and systems.
Onboard power quality analysis provides useful information, not just data, and it does so via its onboard PQ tool, according to EN50160 and IEEE519 standards. The ION9000 also has extended waveform capture and patented disturbance direction detection (DDD).
Smart power event analysis automatically correlates related trends, events, and waveforms based on time and type of incident, saving time and providing vital insight with pre- and post-incident data.
Patented ION™ programmability allows users to adapt as their power networks become more dynamic, tailoring programming to accommodate complex electrical distribution monitoring or custom substation automation – protecting their investment into the future.
"The ION9000 is truly the power quality meter of the future. With the pace of change today, any power system that is unable to adapt to any new standards, requirements or certifications may be obsolete very soon," noted Kelly Becker, vice president, Power Solutions Division, Schneider Electric. "The ION9000 provides this future-proof adaptability that modern power networks need. It's a precision platform, is highly customizable, it sets a new industry benchmark for accuracy and has a complete power quality analysis tool right out of the box so it can immediately identify and help solve power system events. The ION9000 is a significant addition to the company's EcoStruxure Power portfolio of connected products, and is a valued new platform within a connected and integrated power distribution network."
Significant enhancements for large and power-critical facilities
Safer equipment, safer people
Leveraging visibility of your electrical system is easier with the ION9000 and power management software. Quick views of energy consumption, power quality and power network status are all available in real time. The ION9000 is a critical tool for preventive maintenance and root cause analysis in power outages (or PQ events), helping keep people and equipment safe.
Reliability to avoid downtime 
The ION9000 is a ground-breaking high-performance power quality meter, the result of decades of industry experience. To be certified 0.1S accurate, the meter uses only the most precise, reliable components available. Combined with EcoStruxure Power edge control software, it helps reveal every power network risk and opportunity. Knowing exactly what happened during an incident is vital for re-establishing normal operations and helps mitigate future issues before they become problems. The ION9000 helps avoid outages, equipment damage, failures and interruption of critical operations.
Ensuring productivity through efficiency 
An efficient, optimized power network is a productive network. With its smart power analysis, the ION9000 provides advanced diagnostic information to EcoStruxure Power software for power quality analysis and system forensics, revealing root causes of power events and optimizing power network efficiency. This contextual information allows users to draw conclusions about cause and effect, which enhances operations and enables maintenance scheduling on power equipment only when and where it is needed. Improved power quality also increases the reliability and lifespan of equipment.
Exceeds compliance standards
The ION9000 is the only meter that complies with all three of the latest power quality standards: IEC61000-4-30, IEC62586-1 and IEC62586-2. With its legendary ION programmability, its modularity designed for rapidly changing IoT-enabled power networks, as well as its world-leading 0.1S accuracy, the ION9000 sets the new standard for compliance with local and international standards and regulations far into the future.
An EcoStruxure Power connected offer
The ION9000 is a key element in the EcoStruxure Power platform, Schneider Electric's open, interoperable, IoT-enabled system architecture delivering enhanced value around safety, reliability, efficiency, sustainability and connectivity for our customers. EcoStruxure leverages technologies in IoT, mobility, sensing, cloud, analytics and cybersecurity to deliver Innovation at Every Level including Connected Products, Edge Control, and Apps, Analytics & Services.
For more information on the PowerLogic ION9000 series meter, please visit https://www.schneider-electric.us/en/work/products/product-launch/powerlogic-ion9000/take-it-further.jsp.
About Schneider Electric
Schneider Electric is leading the Digital Transformation of Energy Management and Automation in Homes, Buildings, Data Centers, Infrastructure and Industries.
With global presence in over 100 countries, Schneider is the undisputable leader in Power Management – Medium Voltage, Low Voltage and Secure Power, and in Automation Systems. We provide integrated efficiency solutions, combining energy, automation and software.
In our global Ecosystem, we collaborate with the largest Partner, Integrator and Developer Community on our Open Platform to deliver real-time control and operational efficiency.
We believe that great people and partners make Schneider a great company and that our commitment to Innovation, Diversity and Sustainability ensures that Life Is On everywhere, for everyone and at every moment.
Discover Life Is On
Discover EcoStruxure
Hashtags:  #ION9000 #EcoStruxure #Power #IoT #LifeIsOn  
Follow us on:
Twitter
Facebook
LinkedIn
Google+
YouTube
Instagram
Schneider Electric Blog
CONTACT: Schneider Electric, Dave Smith, Phone: 978.502.9607, David.Smith.US@schneider-electric.com
Web Site: https://www.schneider-electric.us
Contact This Company Download Spec Sheet
More from Controls & Controllers