Schleuniger, Inc. to Exhibit Wire Processing Solutions at Expo Manufactura 2015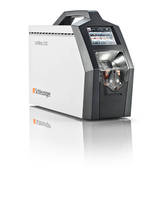 Schleuniger, a leading international manufacturer of wire processing machines, will be demonstrating equipment from its comprehensive line of solutions at Expo Manufacturaon February 3-5, 2015 in Cintermex, Monterrey, N.L. Mexico. Expo Manufactura brings together the most influential players in the engineering industry, attracting more than 9,000 professionals from large, medium and small companies, looking for quality manufacturing solutions. Schleuniger will be at booth #119 providing hands-on demonstrations of innovative solutions for stripping, cutting, crimping and marking all types of wire and cable.



During the show, Schleuniger will be exhibiting some of its popular benchtop wire stripping machines, including the UniStrip 2300 and RotaryStrip 2400. These intuitive machines feature an easy to use touchscreen user interface and a very sensitive trigger sensor that works great for small, flexible wires. Further adding to the machines' user-friendly features, no mechanical adjustments are needed when changing wire sizes, saving the user valuable time.



In addition to benchtop stripping equipment, products from Schleuniger's line of cut and strip machines, including the OmniStrip 9450 will be shown. The compact and flexible OmniStrip 9450 features flexible programming and an indexing cutter head that allow multiple processing tasks to be carried out in a single step. This, along with its ability to process a wide range of applications, makes it ideal for low volume, high mix environments.



Additional products that will be demonstrated include the UniCrimp 200, UniStrip 2600, EcoCut3200 and PreFeeder 1100. Attendees are encouraged to bring their wire samples and talk with Schleuniger's wire processing experts to help determine the equipment that is best suited to their individual needs.



More information can be found at www.schleuniger-na.com. Should you have any questions, please e-mail sales@schleuniger.com or call (603) 668-8117.



About the Schleuniger Group

The Schleuniger Group in Thun is a globally active technology company and a leading supplier in the Wire Processing industry. Customers of the Schleuniger Group primarily supply the automotive, entertainment, and information industries as well as the communication sector. Schleuniger products are used whenever precise wire processing plays a role. Development and production are located in Switzerland, Germany, and China. Schleuniger is always close to its customers - with four Sales and Service companies in the US, Germany, China, and Japan as well as with 40 distributors worldwide. The Schleuniger Group represents the independent Business Unit Wire Processing of the listed Metall Zug Group and has about 500 full-time employees and 30 trainees worldwide.





More from Machinery & Machining Tools