Schleuniger, Inc. to Exhibit Wire Processing Solutions at EPTECH Electronics Trade Shows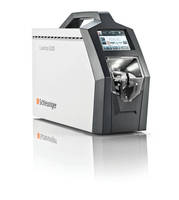 Machines To Be Demonstrated Include the CoaxStrip 5200, RotaryStrip 2400 and More



Schleuniger, Inc., a leading international manufacturer of high-precision wire processing machines, will exhibit the latest in wire processing solutions at the EPTECH series of professional electronics shows across Canada. Schleuniger will be at EPTECH Montreal / Pointe-Claire on Tuesday, April 19, 2016 and EPTECH Markham on Thursday, April 21, 2016. In addition, Schleuniger's manufacturer's representative, G2 Manufacturing, will be showcasing Schleuniger equipment at EPTECH Calgary on Tuesday, March 1, 2016 and EPTECH Vancouver / Coquitlam on Thursday, June 2, 2016.



EPTECH is the only series of coast-to-coast national electronics shows in Canada and covers a very broad spectrum of the electronics industry. At the event, attendees will have the opportunity to meet with Schleuniger's wire processing experts and experience hands on demonstrations of machines for cutting, stripping and crimping all types of wire and cable.



Several popular benchtop wire stripping machines will be available for demonstration, including the CoaxStrip 5200, UniStrip 2300 and RotaryStrip 2400. These easy to use machines don't require any mechanical adjustments when changing wire sizes and feature a very sensitive trigger sensor for small, flexible wires along with user-friendly programming with color touchscreen.



Schleuniger recently added barcode scanning capabilities as an optional feature on the CoaxStrip 5200, UniStrip 2300, and RotaryStrip 2400 along with select other benchtop stripping machines. Once the barcode feature is activated via a license key, the operator can use the handheld scanner to scan barcodes on work orders. The wire library within the stripping machine's internal memory is then searched for the matching file name and the correct program is immediately loaded into the machine. This greatly reduces set-up time and eliminates operator error when switching between jobs. Visit the Schleuniger table at EPTECH to learn more.



More information can be found at www.schleuniger-na.com. Should you have any questions, please e-mail sales@schleuniger.com or call 603-668-8117.



About the Schleuniger Group

The Schleuniger Group in Thun is a globally active technology company and a leading supplier in the Wire Processing industry. Customers of the Schleuniger Group primarily supply the automotive, entertainment, and information industries as well as the communication sector. Schleuniger products are used whenever precise wire processing plays a role. Development and production are located in Switzerland, Germany, and China. Schleuniger is always close to its customers - with four Sales and Service companies in the US, Germany, China, and Japan as well as with 40 distributors worldwide. The Schleuniger Group represents the independent Business Unit Wire Processing of the listed Metall Zug Group and has about 500 full-time employees and 30 trainees worldwide.





More from Machinery & Machining Tools