Schleuniger, Inc. to Demonstrate Latest Solutions at Electrical Wire Processing Technology Expo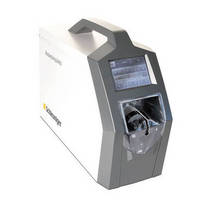 Schleuniger to Feature RotaryStrip 2400, UniStrip 2550, CrimpCenter 36S and More

Schleuniger, Inc., a leading international manufacturer of high-precision wire processing machines, will be among the over 100 world class suppliers of equipment, instruments, tools, materials and supplies used in wire and cable harness assembly, to exhibit at the Electrical Wire Processing Technology Expo. This exclusive showcase will be held on May 9th and 10th at the Frontier Airlines Center in Milwaukee, WI. Schleuniger will be at booth #1641 providing hands-on demonstrations of innovative solutions for stripping, cutting, sealing, crimping and marking of all types of wire and cable.

As companies continue to look to cut costs and increase efficiencies while remaining compliant with strict quality standards, the industry needs innovative, automated and easy to use products to help companies meet their goals. With unique service and a wide range of equipment to fit a variety of processing needs, Schleuniger sets new technical standards by bringing precision, flexibility and user-friendliness to wire processing.

As part of their exhibition at the Electrical Wire Processing Technology Expo, Schleuniger will debut the RotaryStrip 2400, the next generation single conductor bench top wire stripping machine, which easily strips Teflon, Kapton and Fiberglass insulated wires with optional twisting of the inner strands. This fully programmable machine, featuring a color touchscreen, provides the highest precision and quality available on the market today.

The company will also unveil the UniStrip 2550, which is uniquely designed to process an expanded range of applications. The machine comes standard with V-blades, the optimum solution for stripping most wires without having to change blades. Yet, is also able to use radius blades, die blades or flat blades, making the UniStrip 2550 perfect for difficult to strip insulations such as Teflon, Kapton and Kynar.

Schleuniger will also demonstrate the CrimpCenter 36S, a fully automatic machine that quickly and efficiently cuts, strips and terminates a wide range of wire types and sizes providing a smaller footprint at a very economical price. The advanced technology and productivity make it possible to replace multiple legacy machines with one CrimpCenter 36S thereby reducing floor space, power consumption and labor requirements while expanding flexibility and capability. Equipped with high precision technology, the CrimpCenter 36S features a compact modular design offering space for up to six processing stations, such as seal loaders, twisting and tinning stations.

Additional products Schleuniger will demonstrate include the CrimpCenter 64, PowerStrip 9550, UniStrip 2300, JacketStrip 8310, CoaxStrip 5300, PowerCut 3700, StripCrimp 200 and CableCoiler 1300 among others.

More information about these products can be found at www.schleuniger-na.com. Should you have any questions, please e-mail sales@schleuniger.com or call (603) 668-8117.

Schleuniger is one of the globally leading companies for wire processing solutions and is specialized in high precision stripping & crimping technology. Manufactured in Switzerland and Germany, Schleuniger machines and equipment are used in various industries and markets all over the world. The Schleuniger Group has sales & service companies in Germany, USA, Canada, Mexico, Slovakia, Japan and China and a world-wide sales & service network with long-term partners in more than 50 countries. The Schleuniger Group represents the division "Wire Processing" of the METALL ZUG GROUP. The holding company METALL ZUG AG is listed at the Swiss Stock Exchange (SIX Local Caps, Zurich, Switzerland).


More from Machinery & Machining Tools