Schenke Tool adds their Second Robotic Welder to Increase Welding Capabilities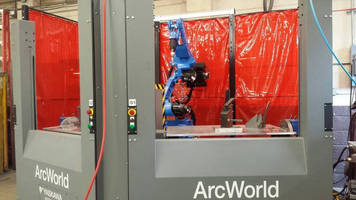 The Yaskawa Motoman ArcWorld Robotic welder enhances Schenke Tool Company's already extensive facility - by adding a second robotic welder; we can improve turn-around times for our customers.  This machine is especially good for small to medium sized parts produced at medium to high volumes.  



One feature that makes this machine unique is its dual independent work stations, allowing us to load/unload parts on one station, while parts are being welded on the other station.  This allows optimum cycle time, providing fast turn-around with the best possible cost. The two headstock/tailstock positioners allows for rotation, giving access to hard to reach areas. 



A unique advantage for our customers is that Schenke Tool offers custom in-house tooling and fixturing, which ensures precise, consistent parts.  In addition to robotic welding, we offer full job shop capabilities including cnc milling turning, waterjet cutting on our 3-axis and 5-axis cutting systems, short run stampings and mig & tig welding services. 



Schenke Tool has been servicing Industry for over 60 years. Our customers have relied on our extensive knowledge, precise machining and high quality control as we have led the way in part manufacturing and tooling.  For more information, please visit our website www.schenketool.com or call 1- 888-522-7086.



More from Test & Measurement