SCCS Solution helps ensure safety system uniformity.
Press Release Summary: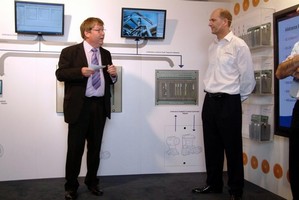 Designed for oil and gas industry, AADvance Safety and Critical Control Systems (SCCS) enables users to operate and update entire plant-wide safety systems from one access point. Combined hardware and software solution delivers flexibility and scalability through its distributed nature, which consists of modular controller hardware situated close to plant it protects. Solution also helps minimize use of heavy cabling and installation time.
---
Original Press Release:

ICS Triplex Launches World's Most AADvanced SCCS at Offshore Europe



ICS Triplex, part of the Rockwell Automation Group, chose Offshore Europe as the platform for the launch of its latest product, AADvance, on 4 September. AADvance is the next generation of the Safety and Critical Control Systems (SCCS) that have made ICS Triplex a leader in safety and critical control systems for the oil and gas industry.

Providing customers unrivalled levels of flexibility, scalability and distribution, AADvance represents a major step forward for the sector. As a combined hardware and software solution, it addresses many of the shortcomings affecting other systems. With AADvance, users can operate and update entire plant-wide safety systems from a single access point. Its distributed nature, consisting of modular controller hardware situated close to the plant it protects, also means an AADvance-based solution significantly cuts down on heavy cabling and installation time.

The AADvance launch at ICS Triplex's stand (E4) at 11.30am 4 September was well attended by journalists and customers, who were introduced to the system by the company's Technology managing director, Peter Hall, and Research & Development manager, Gerry Creech and then invited to sample hospitality on its on-stand restaurant hosted by celebrity chef Antony Worrall-Thompson.

Peter Hall comments: "We are delighted to have been able to launch this landmark product at Offshore Europe 2007. As a company with an excellent pedigree in the oil and gas market it made perfect sense to unveil a fresh view on managing safety and critical control and team it with some zesty hospitality. We look forward to introducing many people to the benefits of AADvance over the next few days."

About ICS Triplex plc

ICS Triplex plc, a Rockwell Automation company, has over 40 years of experience in developing, engineering, manufacturing and maintaining safety, critical and control solutions for both onshore and offshore installations. Thousands of systems have been supplied to the world's premier companies in oil and gas, refining, petrochemicals, chemicals and power generation. Applications include emergency shutdown, fire and gas detection, burner management, process control and turbomachinery & compressor control.

The origins of the company are in the supply of fully integrated turnkey solutions for safety, critical and control systems. The industry leading Trusted(TM) system is also available through a network of independent integrators and third party organizations which are certified by ICS Triplex, providing customers with a local source of Trusted(TM) products and services.

ICS Triplex is headquartered in the U.K. With offices around the world, ICS Triplex helps customers to improve their profitability, building value for end users and shareholders alike. For more information, visit www.icstriplex.com.

For further information please contact:-

Native Instinct
Sarah Harlow
t: 0845 074 2778
f: 0845 345 5607
e: sarah.harlow@nativemarketing.com

Chris McCrudden
t: 0845 074 2762
f: 0845 345 5607
e: chris.mccrudden@nativemarketing.com

ICS Triplex
Kelly Sutton
t: 01621 879 540
e: kelly.sutton@icstriplex.com

Native has been recognised for its commitment to getting the best out of its people, after receiving the Award for Best Marketing Team Development Strategy at the Chartered Institute of Marketing sponsored 2007 SWOT Awards.

More from Material Handling & Storage