ScanWorks Version 5 Scanning Head Incorporates Advanced Optical Measurement System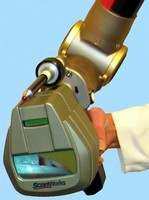 (PLYMOUTH, MI) - Perceptron has announced it is adopting the advanced optical measurement system of NDI (Northern Digital, Inc., Waterloo, Ontario) for the ScanWorks® Handheld Laser Scanning System.

The integration of NDI's advanced digitizing probe with the ScanWorks system makes the probe capable of both contact and non-contact laser scanning. The incorporation of NDI's solid-state Optical Tracker provides operators with unrestricted freedom of movement when scanning.

"Our ScanWorks® platform coupled with NDI technology provides our customers with significant capability for 3-dimensional work involving CAE applications such as inspection and reverse engineering," says Rhex Edwards, Perceptron business development manager. "Users will be delighted with the ease with which the system can be transported, set up, and put to use in the workplace. Their projects can be completed quickly and precisely with fewer interruptions to the workflow.

"We anticipate significant activity for this product since it represents the synergy of unfettered mobility and 3-dimensional data capture," he continues. "3D data is increasingly being used worldwide for product development, quality improvement, benchmarking, CAD and CAE, machining, and other areas in industry and research. Providing easier-to-use products with increased performance capability is obviously going to be required. Perceptron and NDI will naturally be a powerful combination to reach these users."

"NDI is pleased to see the integration of our next-generation optical system with Perceptron's ScanWorks solution," said Paul Clausen, V.P., strategic business development at NDI. "This demonstrates the industry's ongoing preference for optical metrology as the best way to bring real innovation to the shop floor. Now operators can move more freely and transition seamlessly between contact and non-contact scanning."

Operators can now quickly detach a contact stylus and attach the ScanWorks Laser Scanner, and then reattach the contact stylus with no need for time-consuming calibration. The end result is a truly "all-in-one" portable metrology system that already sets a new benchmark for real-world performance and usability.

About NDI
As the world leader in innovative spatial technology, NDI has a quarter century of knowledge and experience to provide the focused solutions and services you need. With offices, dealers, and thousands of measurement systems deployed worldwide, the NDI name is synonymous with providing the right solution for the right job. NDI's latest generation of portable metrology solutions has set a new benchmark for shop-floor accuracy, usability, and flexibility.

About Perceptron
Perceptron produces information-based process improvement solutions for industry as well as technology components for non-contact measurement and inspection applications. Automotive and manufacturing companies throughout the world rely on Perceptron's process management solutions to help them improve quality, shorten product launch times and reduce overall manufacturing costs. Headquartered in Plymouth, Michigan, Perceptron has approximately 235 employees worldwide, with operations in the United States, Germany, France, Spain, Brazil, Japan and Singapore. For more, visit www.perceptron.com.

The ScanWorks hand-held laser-scanning system from Perceptron now incorporates NDI technology.

More from Computer Hardware & Peripherals