SCANLAB Offers basiCube 14 Scan Head with Automated On-the-Fly Functionality
Press Release Summary: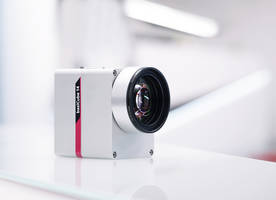 Features a 14 mm aperture and mechanical compatibility with SCANcube series systems
Delivers a writing speeds of 600-cps and manufactured under strict quality standards
Suitable for electronics and labeling applications
---
Original Press Release:
Advanced-Performance Laser Marking at an Entry-Level Price
Compact high-dynamics scan head for labeling applications
Puchheim, Germany – March 19, 2019 – Leading OEM laser scan system manufacturer SCANLABGmbH is expanding its lineup of entry-level scan heads with the new basiCube 14. This compact-class scan system features excellent price/performance and a 14-mm aperture for high-precision marking using small spots. That makes it ideal in electronics labeling applications.
The consumer goods and electronics sectors are governed by high volume production and unrelenting price pressure. In manufacturing, every core component is subject to demanding expectations regarding throughput, reliability and low cost.
SCANLAB now extends its product portfolio via the ultra-compact basiCube 14 scan head, a price-effective variant that features a larger 14-mm aperture and mechanical compatibility with the well-established SCANcube series. This new model assures 600-cps writing speeds, additional productivity can be realized through its automated on-the-fly functionality. It will be manufactured in Germany under strict quality standards.
Current tradeshow calendar:
LASER World of Photonics China 2019 from March 20 - 22, 2019, in Shanghai, China – Hall W2, Booth 2214.
LASER World of Photonics 2019 from June 24 – 27, 2019, in Munich, Germany – Hall A2, Booth 225.
About SCANLAB:
With over 35,000 systems produced annually, SCANLAB GmbH is the world-leading and independent OEM manufacturer of scan solutions for deflecting and positioning laser beams in three dimensions. Its exceptionally fast and precise high-performance galvanometer scanners, scan heads and scan systems find application in industrial materials processing and the electronics, food and beverage industries, as well as biotech and medical technology.
For over 25 years, SCANLAB has secured its international technology leadership through pioneering developments in electronics, mechanics, optics and software, as well as the highest quality standards.
More from Material Handling & Storage