Scaling up with PSL at Powtech 2013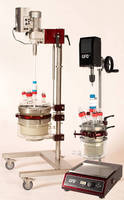 From 23-25 April 2013, PSL is to exhibit at Powtech - TechnoPharm, stand 6-439 (Hall 6) of the NürnbergMesse in Germany.



"The world's leading experts in mechanical processing technologies and instrumentation meet again at Powtech 2013 and as an international manufacturer of filtration, drying and high containment solutions PSL couldn't miss the chance to be part of this international trade fair, explained Rémy Wattiaux, Managing Director of PSL. We have been supporting for more than 24 years the pharmaceutical, biopharmaceutical, chemical and laboratory industries worldwide, and we are experiencing increasing demands specifically for cytotoxic, oncology and highly potent manufacturing. PSL is expanding its mechanical processing offering and Powtech – TechnoPharm is the place to be to meet with key decision makers."



PSL provides powder handling solutions from small-scale to bulk production including contained charging, dispensing, sampling, vessel offloading and drum filling.



PSL's range of glove box and isolators enables users to perform safely many synthesis and formulation processes such as filtration, drying, milling, micronizing, sieving, blending, tablet press and capsule filling achieving containment to the nanograms level for the handling of highly potent powder whilst protecting the operator, product and environment.



Rémy Wattiaux will present a Case Study at the end of the exhibition to further explain the key considerations when manufacturing high potent drugs such as Cytotoxic or Oncology compounds. The High Containment for Oncology and Cytotoxic Production presentation will be help on Thursday 25th April at 14.30pm at the Exhibitor Forum located in the Hall 4.



PSL is also a centre of excellence in the design and manufacture of filtration and drying technologies. Their filtration solutions include the innovative laboratory glass filter dryer (GFD®) for easy lab filtration and drying and process scale-up. On their stand 6-439, they will showcase their full range of GFD® from lab sizes (0.5 to 2L volume) to Kilo-Lab applications (10L volume).



These miniature versions of a full scale filter dryer features some key advantages of their Agitated Nutsche Filter Dryer range. They are designed to perform efficient filtration and drying of any type of cake.



Visit us at Powtech - TechnoPharm, stand 6-439 to discover PSL's extensive range of advanced process and containment solutions.



PSL press contact:

Camille Flores – marketing@powdersystems.com – +44 (0)151 448 7741



PSL Europe Office contact:

Rémy Wattiaux

Managing Director

+33 9534 04448

saleseu@powdersystems.com



Company information:

Powder Systems Limited (PSL)

+44 (0)151 448 7700

www.powdersystems.com 

info@powdersystems.com 



About PSL:

Powder Systems Ltd (PSL) provides a full range of filtration, drying and contained powder handling products to worldwide industry leaders including Pfizer, GSK and BMS. From small-scale production to full process systems PSL's isolation products provide containment to nanogram levels for handling highly potent APIs.



PSL provides a full service that includes: OEL testing, installation, operator training, aftercare, reliable spare parts and emergency call out to anywhere in the world. PSL has been established for 23 years and has offices and distributors worldwide to easily assist their global customer base.

More from Electrical Equipment & Systems