Scale weighs small parts for inventory accuracy.
Press Release Summary: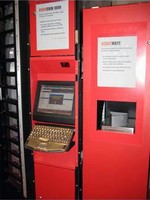 By weighing parts/fasteners and converting that measurement to number of units, ScaleMate eliminates need to count small parts and fasteners while maintaining accurate inventory numbers. Employing Mettler Toledo load cell, system handles weights up to 30 lb and can measure in kilograms or pounds with .002 lb sensitivity. Tower is 16 x 16 x 65 in. high, with scale 37 in. up from ground level, and is compatible with RoboCrib 500, 1000, and 2000.
---
Original Press Release:

AutoCrib Introduces ScaleMate



AutoCrib Delivers Total Control for Fasteners and Small Parts with NO COUNTING!

AutoCrib's ScaleMate weighs small parts for inventory accuracy!

IMTS / Chicago, Illinois

AutoCrib, Inc. (www.autocrib.com) unveiled its latest innovation, the ScaleMate, at the 2008 IMTS Show in Chicago, Illinois. ScaleMate eliminates the need to count small parts and fasteners while maintaining accurate inventory numbers. "Our manufacturing customers wanted to be able to grab a handful of screws or washers without the hassle of counting each one", explains Bruce Weaver, VP of Sales for AutoCrib, "yet they needed to count them to keep their inventories accurate for job costing and to avoid costly shutdowns."

AutoCrib's ScaleMate solves this problem by weighing the parts or fasteners and converting the weights to units. This provides a significant increase in security over typical drawer-based dispensing systems, where the user is asked to report how many of a specific item he is taking. Various human factors like guessing, not reporting or miscounting which cause inventory errors, and ultimately cause stock outs, shut downs, emergency purchase orders and rush shipments. If the user attempts to trick the system by putting a different item in the bin, the system checks to make sure the new weight is divisible by the per piece weight. If not, it will report bin contamination to the system administrator.

"We listened to customers who are dealing with fasteners and other small parts", state Bruce Weaver, and "they love the simplicity of our standard RoboCrib, but needed more accurate tracking than the RoboCrib provides. The ScaleMate delivers a perfect solution and easily connects to any RoboCrib."

ScaleMate Specific Features:
Compatible with the RoboCrib 500, 1000 and 2000
High quality Mettler Toledo load cell
Capacity to handle weights up to 30 lbs
Ability to measure in kilograms or pounds
Sensitivity to .002 of a lb
Ability to back out tare weight
Auto Zero capability
Tower is 16"wide, 16" deep, 65" high, with scale 37" up from ground level

RoboCrib Features:
24/7 availability with 100% total security and accountability
Saves 20-40% on indirect supply costs
Eliminates tool crib trip time by locating supplies at point of use
Reduces stock outs and purchase orders using Demand Based Ordering
Exclusive AutoCrib 5.3 software with dashboard provides instant access to your critical supplies metrics
No need to repackage items
Exclusive frameless doors allow access to larger items

ABOUT AUTOCRIB

AutoCrib industrial vending systems are driven by AutoCrib's powerful software, which gives you real-time usage data and in many cases, will update your ERP system. This helps you dramatically reduce the cost of indirect supplies by as much as 20-40% -- because your employees are now accountable, and you control access to tools and supplies.

At AutoCrib, the basic concept of "tool vending" has evolved into a wide variety of products that will help you control perishable tooling, safety supplies, MRO supplies and other "indirect materials". Our product line includes handheld scanners, automated lockers, automated cabinets, traditional vending machines, RFID portals and robotic carousel systems. No other company has such a variety of point-of-use dispensing technology - and can provide as complete a solution as AutoCrib.

To date, AutoCrib has over 4000 units installed throughout North America, Europe, South America and Australia. AutoCrib systems are sold primarily through our network of over 100 industrial distributors. AutoCrib is based in Santa Ana, California, with offices in Atlanta, Cincinnati, Dallas and Chicago.


More from Non-Industrial Products