Scale offers one-step over-pour recalculation.
Press Release Summary: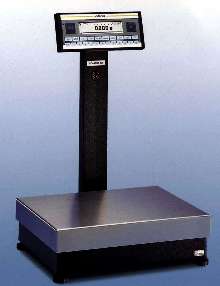 Explosion-proof Series FC mixes components in formulations including paints, inks, chemicals, and powders. Recalculation feature helps avoid discarding mixture if ingredient has been added in excess of required amount in formulation. Scale mixes up to 99 ingredients and allows adjustments for each of mixed components. It offers capacities to 300 kg and readabilities to 0.001 g.
---
Original Press Release:
Sartorius FC and FCA Explosion Proof Scales with One-step Over-Pour Recalculation

Edgewood, NY - Sartorius Corporation provides FC series industrial scales for mixing components in formulations including paints, inks, chemicals and powders. An available one-step, over-pour recalculation feature helps avoid discarding the mixture if an ingredient has been added in excess of the required amount in the formulation. A simple press of the recalculation function and resetting the over-poured ingredient's amount and the FC scale resets the amount of the other ingredients to be added correctly to keep the mixture in proper proportion.

The FC and FCA scales will handle mixing up to 99 ingredients and will allow adjustments for each of the mixed components. The over-pour recalculation feature is available on all the FC scales including Ex-approved units that are used in areas where very costly and explosive components are mixed together and strict adherence to formulation proportional requirements is critical. With capacities up to 300kg and readabilities to 0.001g make the FC and FCA scales applicable in all batching and mixing applications.

Sartorius Corporation covers the entire spectrum of weighing technology with a complete line of balances to meet every laboratory and industrial application requirement. They also provide filtration, processing and separation equipment and services to support the biotechnology industry. For more information in the U.S., write to Sartorius Corporation, 131 Heartland Blvd., Edgewood, NY 11717 or call 1-800-635-2906, 1-631-254-4249; fax 1-631-254-4253. E-mail: wt.sales@sartorius.com. In Canada; Sartorius Canada, Inc., 2179 Dunwin Dr., Units 4&5, Mississauga, Ontario, L5L 1X2, 1-905-569-7977. E-mail: sales.canada@sartorius.com. For an on-line demonstration of some of the latest balances, visit the Sartorius North America web site at www.sartorius.com.
More from Sensors, Monitors & Transducers