SCALE-iDriver™ Integrated Circuits feature short-circuit protection.
Press Release Summary: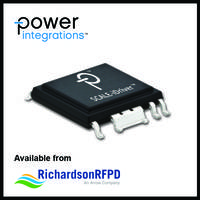 Available in SID1132K, SID1152K, SID1182K models with 2.5 A, 5.0 A and 8.0 A peak output drive currents respectively, SCALE-iDriver™ Integrated Circuits come with IGBT and MOSFET driver in eSOP package. Suitable for 600 V, 650 V, 1200 V IGBT and MOSFET switches, units feature switching frequency of up to 250 kHz. Operated in -40°C to 125°C temperature range, product comes with 5 ns propagation delay jitter and 260 ns propagation delay time.
---
Original Press Release:
Richardson RFPD Introduces New SCALE-iDriver™ Integrated Circuits from Power Integrations
Available as 2.5 A, 5.0 A and 8.0 A peak output drive current devices
Richardson RFPD, Inc. today announced the availability and full design support capabilities for the SCALE-iDriver™ family of integrated circuits from Power Integrations, Inc.
The new ICs are galvanically-isolated single-channel gate driver devices that range in output current from 2.5 A to 8 A, the industry's highest output current without an external booster.
The SID11x2K devices consist of a single-channel IGBT and MOSFET driver in an eSOP package. Reinforced galvanic isolation is provided by Power Integrations' innovative solid insulator FluxLink technology. The up-to-8 A peak output drive current enables the product to drive devices up to 450 A (typical) without requiring any additional active components. For gate drive requirements that exceed the stand-alone capability of the SID1182Ks, an external amplifier (booster) may be added. Stable positive and negative voltages for gate control are provided by one unipolar isolated voltage source.
Additional features such as short-circuit protection (DESAT) with advanced soft shutdown (ASSD), undervoltage lockout (UVLO) for primary-side and secondary-side, and rail-to-rail output with temperature- and process-compensated output impedance guarantee safe operation even in harsh conditions.
Additional key features of the SCALE-iDriver ICs include:
Part numbers: SID1132K (2.5 A), SID1152K (5 A), SID1182K (8 A)
Suitable for 600 V, 650 V, 1200 V IGBT and MOSFET switches
Up to 250 kHz switching frequency
Low propagation delay time: 260 ns
Propagation delay jitter: +/-5 ns
-40 °C to 125 °C operating ambient temperature
High common-mode transient immunity
eSOP package with 9.5 mm creepage and clearance
To find more information or to purchase these products today online, please visit the SID1132K (2.5 A), SID1152K (5 A), and SID1182K (8 A) webpages. The devices are also available by calling 1-800-737-6937 (within North America); or please find your local sales engineer (worldwide) at Local Sales Support. To learn about additional products from Power Integrations, please visit the Power Integrations storefront webpage.
About Richardson RFPD
Richardson RFPD, an Arrow Electronics company, is a global leader in the RF and wireless communications, power conversion and renewable energy markets. It brings relationships with many of the industry's top radio frequency and power component suppliers. Whether it's designing components or engineering complete solutions, Richardson RFPD's worldwide design centers and technical sales team provide comprehensive support for customers' go-to-market strategy, from prototype to production.
Contact:
Elizabeth Whelan
Marketing Specialist
Richardson RFPD
1950 S. Batavia Ave Suite 100
Geneva, IL 60134
P 630.262.6867
M 630.488.6184
Dave Rossdeutcher
Global Product Management Director – Energy & Power
drossdeutcher@richardsonrfpd.com
P 630 262 6800
More from Architectural & Civil Engineering Products