Scalable E-Server incorporates data-rendundant software.
Press Release Summary: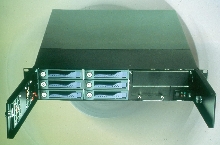 Model RMS-6260 e-server combines 6 hot-swappable RAID5 compatible drives and dual-redundant, hot-swappable power supplies with dual Intel® Pentium® III 1.4 GHz Tualatin processors and 4 GB SDRAM memory. It also provides dual ATA-100 IDE channels, dual 10/100 Ethernet LANs, and five 64-bit/33MHz full-size PCI cards. Hardware is supported by operating systems such as Windows®, Netware®, and Redhat Linux® with HP® OpenView®.
---
Original Press Release:
6 Hot-Swappable, Redundant RAID5 Drives, Hot Swappable Redundant Power Supplies And Data Redundant Software In New Scalable E-Server

City Of Industry, CA (May 1, 2002) - Broadax Systems, Inc. today introduced their latest high performance e-server, the RMS-6260. This new powerful mid-range server series combines six hot-swappable RAID5 compatible drives and dual redundant, hot-swappable power supplies with the reliable operation of dual Intel® Pentium® III 1.4 GHz Tualatin processors, 4GB SDRAM memory, dual ATA-100 IDE channels, dual fast Ethernet LANs, five 64-bit/33MHz full-size PCI cards. The system supports a variety of operating systems and is optimized for both local and remote monitoring and restart making the RMS-6260 ideal for the most demanding server applications including online banking, e-trading, e-business, LAN and WAN servers and other extreme applications where downtime is not acceptable.

The RMS-6260 provides a flexible, scalable and cost-effective option for high fault tolerant/resilient servers. Its high processing power is derived from dual Pentium® III Tualatin processors running at 1.4 GHz and backed by up to 4GB SDRAM.

Dual ATA-100 IDE channels and a Promise Fast Track100 hardware RAID card support up to 6 hot-swap drives for redundant storage of critical data. The e-server uses 3.5-in. RAID Level 5 drives, which means data is striped across three or more drives for greater data retrieval and writing speed to complement the CPU and then by parity bits stored on another separate drive providing data security and fault tolerance. If a drive fails, simply remove the failed hot-swappable drive with a new one and the RAID controller automatically reconstructs the data. Two hot-swap 300W power supplies complete the fail-safe design, making the RMS-6260 a five-nines (99.999%) uptime performer.

This high performance hardware is supported by an abundance of operating systems (OS) including Windows® 2000/XP/NT 4.0, Netware® 4.x/5.x/6.x, Redhat Linux® 7.0/7.1 with HP® OpenView®, CA TNG Framework®, and Intel® LDCM®. Broadax's own Server Management software makes standardization and easy server management significantly more simple and less time consuming even when deploying multiple systems on remote sites. This software automatically identifies potential critical server problems such as internal temperatures, power voltages, and component health status allowing for preventative maintenance prior to system failure.

The 2U high rack mountable servers are also designed for easy maintenance. All drives and power supplies are accessible from behind a lockable front panel. Status LEDs on the center of each front panel make it easy to isolate a failed server in a rack with multiple configurations. The LEDs tell the status of each unit and conveniently informs when problems arise from hard disks, fans, over-heating, or system power failure. The LEDs make it easy to detect individual failures to decrease trouble-shooting time and increase uptime.

Plug-n-play based, the RMS-6260 is scalable with dual 10/100 Ethernet ports and is expandable with five full-size 64-bit/33MHz PCI bus slots. Two serial ports, one parallel port, two USB, CD-ROM, floppy, and keyboard/mouse connections make the system a powerful and flexible server for many applications.

Price And Availability

The RMS-6260 redundant e-server is available now from stock with up to 2 weeks ARO for larger orders. Based on system configurations and OEM requirements, systems are as low as $1,315. Quantity discounts are available.

About Broadax

Focused on its primary mission to provide state-of-the-art computer systems for mobile and industrial computing needs, Broadax Systems, Inc. (BSI) offers a broad range of high-end PC systems in rugged portable, notebook and industrial rack-mount designs for use in business, research, engineering, industrial, aerospace and military settings.

BSI was founded in 1986 and is a pioneer in the portable computer industry. Since its beginning, BSI continues to reduce the overall size and weight of portable PCs while retaining all the expansion and power capacities of a desktop computer. Customers include Raytheon, Boeing, Lockheed Martin, the Army National Guard and other business-to-business, consumers, and government agencies.

For more information on BSI and the RMS-6260 e-server, customers should contact Edward Shih at
17539 E. Rowland Street
City Of Industry, CA 91748
phone 800.872.4547
fax 626.964.2665
e-mail at edward@bsicomputer.com.
The company is on the World Wide Web at
http://www.bsicomputer.com.
More from Cleaning Products & Equipment