Scalable Computer-on-Module suits Ultra-Low Power applications.
Press Release Summary: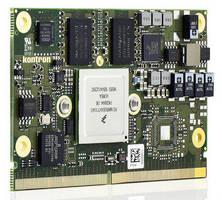 Accommodating needs of ULP and SFF smart devices, scalable Kontron ULP-COM-sAMX6i series is available with 800 MHz single-, dual-, or quad-core processors of Freescale i.MX6 Series with ARM® Cortex A9 technology. Product has lifetime of at least 10 years, operates from -40 to +85°C, and has 82 x 50 mm form factor. It integrates all core components, including non volatile memory, and offers diverse I/O, connectivity,and expansion options as well as dual display support.
---
Original Press Release:

Kontron Enables Highly Scalable Ultra-Low Power Applications with Freescale i.MX6-based ULP-COM Computer-on-Modules



New Kontron module with ARM® Cortex A9 based single, dual and quad core processors provide greater energy efficiency for smart devices



Eching/Munich, Germany – Today, Kontron (Hall A6, Stand 506) premiered its second new module in the ULP-COM (Ultra Low Power) standard, extending the successful and scalable Computer-on-Module concept to countless ultra low power and SFF smart devices. The new, highly scalable Kontron ULP-COM-sAMX6i with single, dual or quad core ARM® Cortex A9 technology cover an extremely wide performance range. Based on Freescale's i.MX6 Series processors, they enable an efficient development of scalable smart devices which need an extremely compact, fanless design with balanced processor and graphics performance. OEMs benefit from these new modules by a standardized basis for the industrial environment with enhanced design security for the rapid and efficient development of mobile, energy-efficient embedded appliances with open standards software.



The Kontron ULP-COM-sAMX6i Computer-on-Modules exceed the traditional scale of longevity with their availability of at least ten years. Furthermore, they support the extended temperature range from -40°C to +85°C by-design. Thus, the new ULP-COM module family is ideal for market sectors demanding highest ruggedness and long-term availability, such as for example transportation, medical and military.



On the extremely compact footprint of the ULP-COM short form factor (82 mm x 50 mm), the Kontron ULP-COM-sAMX6i integrate all core components including non volatile memory for a rugged, closed system design without any moving components. The standardized ULP-COM pin-out of the MXM 3.0 connector is optimized for ultra low-power applications. Dedicated I/Os, which are not available on x86 chipsets, are for example: Serial Peripheral Interface, I²S, MediaLB and CAN-Bus. In this way, the new modules meet the requirements of the most widely differing application scenarios – from Outdoor KIOSK -through automotive applications up to robust battery-powered handheld devices with graphic user interfaces. The built-in Watchdog timer even enables the use in mission-critical applications with the most demanding levels of reliability in the medical, security and military markets.



The feature set in brief

The new Kontron ULP-COM-sAMX6i Computer-on-Module family is available with 800 MHz single, dual and quad core processors of the Freescale iMX6 series. On a project basis, further variants with additional versions from the extensive range of these long-time available processors are possible. Depending on the SoC model, they integrate one or two independent graphics engines with up to four 3D shaders for vivid 3D visuals and video de- and encoder, which can process HD videos up to 1080p @ 60 Hz. Dual independent displays are possible via parallel 18/24 bit LCD or 18/24 bit single-channel LVDS and HDMI. In addition, two MIPI-conforming camera inputs enable the use of device-specific video sensors. Application-specific extensions can be integrated via up to three PCI- Express lanes, 3 x USB 2.0, 2 x SPI, 5x I²C and 2x CAN. For multimedia, interconnect developers can rely on 1 x Media Local Bus 150, 2 x I2S and SPDIF. Storage media can be connected via SATA, SDIO and eMMC. For networking there is a 10/100/1000 Ethernet port. The input voltage ranges from 3V up to 5.25 VDC. In this way it can be directly powered via a single-cell lithium-ion battery as well as the classic 3.3 VDC or 5 VDC power supply, which in addition simplifies the system design.



The Kontron ULP-COM-sAMX6 family operates seamlessly with the Kontron ULP-COM Evaluation Carrier, so that developers can immediately start with the application development. Kontron is offering comprehensive operating system support for the application-typical Linux, Android and later Windows Embedded Compact 7 operating systems.



Samples of the Kontron ARM® Cortex A9 COM-ULP-sAMX6 module family are available now. Series production is planned for Q1 of 2013.



For further information please visit the Kontron ULP-COM-sAMX6i product page.



About Kontron

Kontron is a global leader in embedded computing technology. With more than 40% of its employees in research and development, Kontron creates many of the standards that drive the world's embedded computing platforms. Kontron's product longevity, local engineering and support, and value-added services, helps create a sustainable and viable embedded solution for OEMs and system integrators. Kontron works closely with its customers on their embedded application-ready platforms and custom solutions, enabling them to focus on their core competencies. The result is an accelerated time-to-market, reduced total-cost-of-ownership and an improved overall application with leading-edge, highly-reliable embedded technology.



Kontron is listed on the German TecDAX stock exchange under the symbol "KBC". For more information, please visit: http://www.kontron.com/ 



Media Contacts



Americas

Richard Pugnier

Kontron

Tel:+1 (858) 623-3006

richard.pugnier@us.kontron.com



Annette Keller

Keller Communications

Tel:+1 (949) 640-4811

annettekeller@sbcglobal.net



All rights reserved. Kontron is a trademark or registered trademark of Kontron AG. All other brand or product names are trademarks or registered trademarks or copyrights by their respective owners and are recognized. All data is for information purposes only and not guaranteed for legal purposes. Subject to change without notice. Information in this press release has been carefully checked and is believed to be accurate; however, no responsibility is assumed for inaccuracies.

More from Controls & Controllers