SCA3300 Series Accelerometers meet AEC-Q100 quality standards.
Press Release Summary: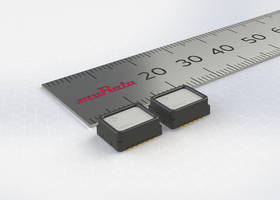 Housed in pre-molded dual flat lead 7.6 x 8.6 x 3.3mm SMD package, SCA3300 Series 3-Axis MEMS Accelerometers are operated from 3.3 VDC supply with 1 mA consumption during normal operation. Delivering non-linearity of 0.1 % and noise density of 37 ug/√Hz, units feature an offset stability of less than 10mg. Used for levelling and alignment system and inertia measurements, accelerometers have an operating temperature range of -40°C to +125°C.
---
Original Press Release:
High Performance 3 Axis MEMS Accelerometer Industrial and Automotive Applications
Murata Americas today announced the availability of the SCA3300 series high performance 3 axis MEMS accelerometers aimed at a broad range of industrial and automotive applications. Measuring just 7.6 x 8.6 x 3.3mm, this small surface mount sensor offers several measurement ranges of 1.5, 3, or 6g and features lower than 10mg offset stability. The series delivers best-in-class MEMS sensor characteristics with a non-linearity of 0.1 percent and noise density of 37 ug/√Hz. It also boasts an operating temperature range from -40 degrees C to +125 degrees C.
Functions for the SCA3300 include leveling and alignment systems, inertia measurement units for heavy machinery, navigation systems, automatic guided vehicles (AGV) and construction and surveying tools. It is also well suited for high accuracy automotive inertia sensing. Specific examples include autonomous driving (ADAS) and intelligent transmission control that can be enabled by sensors.
This product is packaged in a pre-molded dual flat lead SMD housing, operates from a 3.3 VDC supply, and consumes only 1 mA during normal operation. These benefits make it suitable for battery powered applications. For example, in its low power mode, consumption drops to about 0.5 mA. Communication with the host application is via an industry standard SPI interface.
The SCA3300 also meets the automotive AEC-Q100 quality standard. Further, it provides unique, continuous failsafe functions and flags for diagnostics. These include monitoring internal reference signals, techniques for verifying communication, signal saturation, and over range monitoring.
"Murata constantly strives to develop solutions that enable the industrial and automotive to reach new levels. The SCA3300 series demonstrates our technological, material, and design expertise," stated Deryl Kimbro, General Manager - Sensor Products, Murata Americas.
An evaluation board is available for the SCA3300 that incorporates a Java-based GUI to graph sensor output, data logging, and data rate calculations. More information can be found at www.murata.com.
About Murata
Murata Manufacturing Co., Ltd. is a worldwide leader in the design, manufacture and sale of ceramic-based passive electronic components and solutions, communication modules and power supply modules. Murata is committed to the development of advanced electronic materials and leading edge, multi-functional, high-density modules. The company has employees and manufacturing facilities throughout the world. For more information, visit Murata's website at www.murata.com.