SBC is passively cooled and uses 4 W of power.
Press Release Summary: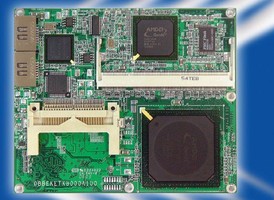 EMI-tolerant and RoHS-compliant ETX-LX Computer-on-Module features 500 MHz AMD LX800 processor, 4 x USB 2.0, DDR SODIMM storage module, and graphics integrated in AMD GEODE CS5536 chipset. Baseboard interface offers 10/100 Base-T Ethernet port, 2 serial TTL interfaces, and onboard CompactFlash slot that integrates up to 8 GB of non-rotating storage media. Pinouts on board include keyboard, mouse, AC97 sound, and parallel port. Up to 512 MB DDRAM is available.
---
Original Press Release:

RoHS-Compliant COM: an Added Value Alternative to the Geode GX1



ETX-LX: Kontron's Lead-Free ETX Computer-on-Module with AMD LX800 Processor

Eching/Nuremberg, Germany, February 14th - Kontron introduces the ETX-LX with the energy-saving 0.9 watt / 500 MHz AMD LX800 processor, the RoHS-compliant added-value alternative for designs that have previously been based on the Geode GX1: for the first time in this performance class, the EMI-tolerant ETX-LX offers 4 x USB 2.0, graphics integrated in the AMD GEODE CS5536 chipset, and supports the economical DDR SODIMM storage module. The Kontron ETX-LX module performs better but still as reasonably priced as its predecessor. The passively cooled COM with heat-spreader uses just 4 watts of power and is extremely compact - a mere 10 mm high. Of course, as usual with ETX, PCI and ISA are fully supported. Conversion from the ETX-gmx with Geode GX1 to ETX-LX with 500 MHz AMD LX800 processor is possible without any need to redesign or adapt of software. The components, CompactFlash slot, and memory slot are positioned in exactly the same places. However, genuine RoHS designs also require an upgrade of the baseboard, for which Kontron provides support and also optional development resources.

Besides the highly sought-after four USB 2.0 ports, the baseboard interface of the new ETX-LX module also offers a 10/100 Base-T Ethernet port and two serial TTL interfaces. Thanks to the onboard CompactFlash slot, non-rotating storage media can be integrated, currently up to 8 GB. Additional Ultra66 DMA storage media are connected via two IDE ports. For graphics, CRT (SXGA), LCD (UXGA), and TV-out are supported. The other pinouts on the board are keyboard, mouse, AC97 sound, and parallel port. Application-specific interface variations are controlled via PCI and ISA bus. Up to 512 MB DDRAM is available. Software support is offered for all previously supported operating systems as well as Linux, Windows XP embedded, and Windows CE.Net.

Like all other Kontron ETX modules, the Kontron ETX-LX module is fanless and cools the processor using an innovative concept: a heat spreader thermally couples the ETX module to the target system identically in each board variant. Thus, mechanical redesigns are not necessary when modules are exchanged. The ETX concept offers free scalability without mechanical changes. In order to vary performance smoothly, Kontron's ETX modules are optionally available with VIA, AMD, and Intel processors.

Baseboard designs inclusive as needed
OEMs that not only use COMs from Kontron, but also want to outsource all the hardware design can rely on the boards & MORE Custom Solutions and Services from Kontron. Here, experienced developers are busy implementing the latest interface technology on baseboards for COMs and developing customized single board computers. Hundreds of layouts have already been successfully implemented and mass-produced in recent years, so that in many cases design risks can be avoided in advance, and customer-specific designs can be made ready for serial production significantly faster. For example, confident familiarity with COMs, for instance in signal sequencing on the baseboard, is as much a matter of course for the developers as the implementation of economical designs in the smallest space, or consistent use of components with long-term availability. Professional project management from specifications to serial production and redesigns, partly at no cost, within the framework of lifecycle management round out the range of offers.

ETX and ETXexpress
Computer-On-Modules such as ETX and, most recently, ETXexpress (based on COM Express) are implemented in embedded systems tailored to meet customer needs. The advantages: concentration on core competences, fast time to market, low design risk and freely scalable performance. ETX modules with PCI bus are geared toward applications with low to medium performance. High-end applications are implemented with PCI-Express bus-based ETXexpress modules. In the future, the standard ETX will also undergo further development in scalability and performance, because PCI will be used in embedded systems for just as long as the older ISA bus used today.

About Kontron:
A global leader in embedded computer technology and mobile rugged solutions, Kontron supplies a diversified customer base of OEMs, system integrators and application providers in the automation, test and measurement, communications, medical, gaming and entertainment, military, aerospace, public safety, transportation, and energy markets. The company helps its customers to considerably reduce their time-to-market and to gain a competitive advantage with products including high-performance open computer platforms and systems, single board computers, human-machine interfaces and mobile rugged computers. Kontron employs more than 2,300 people worldwide and has manufacturing facilities in Europe, North America, and Asia Pacific. The company is listed on the German TecDAX 30 stock exchange under the symbol "KBC". Kontron is a Premier member in the Intel ® Communications Alliance which means earliest access to leading-edge Intel technologies and privileged engineering support. For additional information on Kontron, please visit kontron-emea.com.

Reader enquiries EMEA:
Kontron AG
Oskar-von-Miller-Straße 1
85386 Eching/München
Phone +49 81-65 77 0
Fax +49 81-65 77 219
Freecall: 0800-7253756
kontron-emea.com
sales@kontron.com

Product management EMEA:
Kontron Embedded Modules GmbH
Zeljko Loncaric
Brunnwiesenstr. 16
94469 Deggendorf, Germany
Phone: +49(991)37024-647
Fax -102
zeljko.loncaric@kontron.com

More from Thermal & Heating Equipment