SBC features Intel® Atom(TM) Z5xx series processor.
Press Release Summary: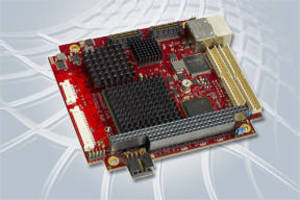 Ocelot is fanless SBC that features SUMIT(TM) expansion interface supporting high-speed PCIe lanes and USB, SPI, and LPC signals. Unit includes Z5xx Atom processor with up to 1.6 GHz and US15WP(T) chipset. It also features 2 GB DDR2 RAM, GbE port, up to 7 USB 2.0 interfaces, IDE port, 4 RS-232/422/485 COM ports, and integrated LVDS in 3.55 x 3.78 footprint. Drawing 7 W, it has field-programmable Embedded BIOS® and is available for operating temperatures of 0-60ºC and -40 to +85ºC.
---
Original Press Release:

VersaLogic Ocelot Raises the Bar with Next Generation Intel® Atom(TM) Z5xx Series Processor



Eugene, Oregon - Aug. 4, 2009 - VersaLogic Corp., a Eugene, Oregon-based embedded computer company, today announced the "Ocelot", a small, fanless single board computer (SBC) featuring great performance, very low power operation, and the new SUMIT(TM) (Stackable Unified Module Interconnect Technology) expansion interface.

The Ocelot takes advantage of all the best features of Intel's latest generation Atom processor (Z5xx series), which was designed specifically for embedded applications. Based upon Intel's 45nm Hi-k metal gate silicon technology, the new Z5xx series Atom chip offers very high performance (up to 1.6 GHz), radically reduced power requirements, and ground-breaking power management capabilities.

The new Z5xx Atom processors draw about 50% less power than the previous generation N2xx Atom processors. In addition, the Z5xx series offers the only Atom processor chip that is rated for extended temperature operation.

Leveraging the high-performance / low power capabilities of the new Z5xx Atom processor and its US15WP(T) chipset, Ocelot is the ideal choice for thermally constrained embedded applications that can benefit from fanless operation. This compact and rugged SBC is an excellent solution for embedded military/aerospace applications, medical devices, robotics, factory automation, and other OEM markets where small footprint, reduced power draw (7W typical), and fanless operation are crucial design factors.

Based on the PC/104 industry standard footprint of 3.55" x 3.78", the Ocelot is also one of the first products to feature the new SUMIT expansion scheme developed by the Small Form Factor Special Interest Group (SFF-SIG). The SUMIT interface supports a wide variety of expansion options including high-speed PCI Express (PCIe) lanes and USB, SPI, and LPC signals. The Ocelot also includes a PC/104 (ISA) connector for compatibility with legacy PC/104 expansion products.

"This new Atom / SUMIT-based design demonstrates VersaLogic's commitment to bringing innovative embedded computer products to market. The Ocelot takes advantage of the newest technology from Intel as well as incorporating both SUMIT and PC/104 expansion schemes, which our OEM customers will really appreciate," said Len Crane, President of VersaLogic. "OEMs who choose VersaLogic for embedded computing have a partner who not only supports the new initiatives, but understands the importance of easily transitioning legacy systems."

Standard on-board features include up to 2 GB of socketed DDR2 RAM, a Gigabit Ethernet port, up to seven USB 2.0 interfaces, IDE port, Disk-On-Module Flash site, four RS-232/422/485 COM ports, high-definition stereo audio, integrated LVDS, and optional analog VGA support. Support for keyboard, mouse, external storage, and other devices are provided via USB ports. Ocelot is available in both a standard temperature version (0º to +60º C) running at 1.6 GHz and an extended temperature version (-40º to +85º C) running at 1.3 GHz.

As with other VersaLogic embedded computer products, the Ocelot features Phoenix Technologies' Embedded BIOS® with OEM enhancements. The field-reprogrammable BIOS supports custom defaults and the addition of firmbase applications for security processes, remote booting, and other pre-OS software functions. Fully RoHS-compliant, Ocelot is compatible with a variety of popular embedded operating systems, including Windows CE/XP, Linux, VxWorks, and QNX. ACPI 2.0 support provides advanced power management capabilities.

Customization is available even in low OEM quantities. Options include conformal coating, BIOS customization, revision locks, custom labeling, high-G shock and vibration treatment, custom testing and screening, etc.

The Ocelot board is sampling now, and will be available in production quantities in September.

Pricing for the Ocelot is approximately $750 in OEM quantities. For additional information contact VersaLogic Corp. at (541) 485-8575 or info@versalogic.com. Visit www.VersaLogic.com for on-line information.

About VersaLogic Corporation

A leading supplier of industrial computers since 1976, VersaLogic focuses on high-quality board-level products for embedded OEM applications. Its five year product availability guarantee and outstanding warranties demonstrate a commitment to service. Product platforms include EBX, PC/104, PC/104-Plus, EPIC, SUMIT, and SPX(TM). VersaLogic received ISO 9001:2008 certification in 2009 and was one of the first companies in North America to be registered to the 2008 revision of the standard. For five consecutive years, VersaLogic has received the coveted "Platinum" level vendor rating based on independent user surveys by technology research firm VDC Research Group, Inc.

For more information, visit www.VersaLogic.com.

More from Computer Hardware & Peripherals