SBC features AMD Geode LX 800 processor.
Press Release Summary: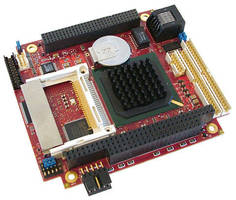 Incorporating mid-range processing speed of 500 MHz with low power consumption of less than 5 W, Manx suits embedded OEM applications including defense, aerospace, and industrial automation. It features 256 Mb of soldered-on DRAM, 10/100 Ethernet, 4 USB 2.0 ports, LPT port, IDE interface, 3 COM ports, analog audio, and is available in both standard (0 to +60ºC) and extended (-40 to +85°C) temperature versions. Unit's PC/104-Plus expansion interface supports ISA and PCI add-on modules.
---
Original Press Release:

VersaLogic Introduces the Manx, a Compact, Rugged PC/104-Plus Single Board Computer



Eugene, Oregon - Apr. 13, 2009 - VersaLogic Corp., a Eugene, Oregon based embedded computer company, announced today that it will begin shipping a new PC/104-Plus single board computer (SBC) for embedded OEM applications. The "Manx" is a mid-range SBC featuring a highly efficient AMD Geode LX 800 processor. The product is function and pin-out compatible with VersaLogic's older Puma SBC, offering customers a higher performance migration path from that popular product. The new Manx incorporates mid-range processing speed (500 MHz) with very low power consumption (less than 5 watts). The ACPI suspend-to-RAM state feature reduces power draw to an incredible 0.2 watts between active sessions.

This high-reliability fanless design is available in both standard (0º to +60ºC) and extended (-40° to +85°C) temperature versions. The low power consumption, compact design, and soldered-on RAM make the Manx an ideal choice for demanding embedded computing applications in markets including defense, aerospace, medical equipment, and industrial automation. The Manx has standard on-board features that include 256 MB of soldered-on DRAM, 10/100 Ethernet, four USB 2.0 ports, LPT port, IDE interface, three COM ports, and analog audio. A CompactFlash® socket provides reliable, high-capacity on-board storage with no moving parts. Integrated high-performance video capabilities support simultaneous analog VGA and LVDS output at resolutions up to 1600x1200 with 32-bit color and MMX(TM) + 3DNow!(TM) graphics for video-intensive applications. The PC/104-Plus expansion interface supports both ISA and PCI add-on modules.

Len Crane, President of VersaLogic, noted, "The Manx provides a great migration path for existing customers, or an opportunity for new customers to realize the benefits of a moderately priced x86 CPU board with very low power draw."

As with other VersaLogic embedded computer boards, the Manx features a Phoenix Software (formerly General Software) reprogrammable BIOS which supports custom defaults and the addition of firmbase security applications, remote booting, and other pre-OS software functions. The Manx is fully RoHS-compliant and compatible with a variety of popular embedded operating systems, including Windows CE/XP, Linux, VxWorks, and QNX.

Customization of the Manx is available, even in low OEM quantities. Options include conformal coating, BIOS customizations, revision locks, custom labeling, high-G shock and vibration treatment, custom testing and screening, etc. The Manx will be available in production quantities in June. Pricing is about $550 in OEM quantities.

For additional information contact VersaLogic Corp. at (541) 485-8575 or info@versalogic.com, or visit the on-line catalog at www.VersaLogic.com.

About VersaLogic Corporation

A leading supplier of industrial computers since 1976, VersaLogic focuses on high-quality board-level products for embedded OEM applications. Its five year product availability guarantee and outstanding warranties demonstrate a commitment to service. Product platforms include EBX, PC/104, PC/104-Plus, EPIC, SUMIT, and SPX(TM). VersaLogic has received the coveted Platinum level vendor rating from VDC Research Group, Inc., for five consecutive years. VersaLogic is ISO 9001:2008 certified and was one of the first companies in North America to be registered to the 2008 standard.

For more information, visit www.VersaLogic.com.

Company Name: VersaLogic Corp.
Address 1: 3888 Stewart Rd.
City: Eugene
State: OR
Zip: 97402
Phone: 541-485-8575
URL: www.VersaLogic.com

Contact Name: Lisa Duckett
Title: Marketing Director
E-mail: LisaD@VersaLogic.com

More from Sensors, Monitors & Transducers