SAX239 Tunable Bandpass Filter offers tuning speed of 40 µs.
Press Release Summary: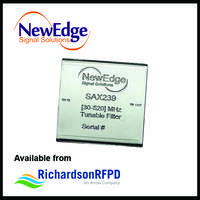 Featuring low insertion loss <4.5 dB and fast-tuning across the band to 1.0 MHz resolution, SAX239 Tunable Bandpass Filter consumes less than 100 mW DC power. With serial tuning control, unit comes in 1.2 x 1.2 x 0.25 in. size. Offering step sizes of 1.0 MHz in 30–88 MHz or 2.0 MHz in 90–520 MHz range, product is suitable for tactical communication applications and jet fighter. Units provide 2.0:1 and 1.5:1 of maximum and typical bandpass VSWR respectively.
---
Original Press Release:
Richardson RFPD Introduces New 30–520 MHz Tunable Bandpass Filter from NewEdge Signal Solutions
Evaluation boards and devices available immediately
Richardson RFPD, Inc. announced today the availability and full design support capabilities for a new 30–520 MHz tunable bandpass filter and associated evaluation board from NewEdge Signal Solutions, Inc.
The SAX239 offers an industry-leading combination of power handling (+33 dBm) and DC power consumption (< 100 mW) in a small form factor. The new device also features low insertion loss and fast-tuning across the band to 1.0 MHz resolution.
The new device is designed for tactical communications applications and offers full environmental qualification, including vehicular (to MIL-STD-810G, Method 514.6) and jet fighter (to MIL-STD-810F, Method 514.5G).
An associated evaluation board includes the filter and the interface required to allow control from any PC.
Additional key features of the SAX239 include:
Insertion loss: < 4.5 dB (typ.) over the full 30–520 MHz band
Step size: 1.0 MHz (30–88 MHz) / 2.0 MHz (90–520 MHz)
Tuning control: Serial [SPI]
Tuning speed: 40 µs (max.) / 25 µs (typ.)
IIP3: +45 dBm
Bandpass bandwidth: 3.5% typical
Bandpass VSWR: 1.5:1 typical: 2.0:1 max.
Dimensions: 1.2 x 1.2 x 0.25 inches
To find more information, or to purchase these products today online, please visit the SAX239 and SAX239_EVB webpages. The devices are also available by calling 1-800-737-6937 (within North America); or please find a local sales engineer (worldwide) at Local Sales Support http://www.richardsonrfpd.com/content/english/contactus/Pages/SalesSupport.aspx. To learn about additional products from NewEdge Signal Solutions, please visit the NewEdge Signal Solutions storefront webpage: http://www.richardsonrfpd.com/content/english/aboutus/Pages/Suppliers-Storefront.aspx?supplierId=314
About Richardson RFPD
Richardson RFPD, an Arrow Electronics company, is a global leader in the RF and wireless communications, power conversion and renewable energy markets. It brings relationships with many of the industry's top radio frequency and power component suppliers. Whether it's designing components or engineering complete solutions, Richardson RFPD's worldwide design centers and technical sales team provide comprehensive support for customers' go-to-market strategy, from prototype to production. More information is available online at www.richardsonrfpd.com.
Contact:
Mark Vitellaro
Director of Strategic Marketing
1950 S. Batavia Avenue, Suite 100
Geneva, IL 60134
Phone: 630 262 6800
Fax: 630 262 6850
Url: richardsonrfpd.com
Email: mvitellaro@richardsonrfpd.com
More from Test & Measurement