Saws have triple edged, 7 in. blades.
Press Release Summary: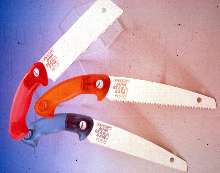 Mini-Bear Saws® include 3 models for pruning, PVC cutting, and woodworking. Bear Saw Pruning Saws have 17 teeth-per-in. blade and slice through 2 in. tree branches. PVC Pipe Mini-Saws cut through PVC and ABS piping as well as plastic and polystyrene sheets. Woodworking Mini-Saws, equipped for general and fine woodworking, also cut plywood, hardwoods, and particle board. All pull-stroke cutting saws offer color-coded neon grips for function identification.
---
Original Press Release:
Vaughan New Mini-Bear Saws® Series for Pruning, PVC and Woodworking

Hebron, Il -- Vaughan & Bushnell Manufacturing Company is showcasing the versatility of its growing line of pull saws by introducing three different models of its Mini-Bear Saws® series specifically designed for tree pruning, PVC cutting and woodworking.

Each of these pull-stroke cutting saws comes with a triple edged, specially designed 7-inch blade with a color-coded handle.

The new Bear Saw Pruning Saw features a 17 teeth-per-inch blade designed for pruning, with ability to slice through 2-inch tree branches. The PVC Pipe Mini-Saw easily cuts through PVC and ABS piping as well as plastic and polystyrene sheets. The Woodworking Mini-Saw, equipped for both general and fine woodworking, is also at home cutting plywood, hardwoods and particle board.

Color-coded neon grips easily identify each saw's function - orange for pruning, blue for PVC and red for woodworking. The high impact handles are interchangeable with all Mini-Bear Saw blades.

Vaughan points out that because the thinner blades take out less material, pull saws require less effort and are considered more ergonomically beneficial than push-stroke cutting by using the larger muscles of the arm and shoulder.

For more information contact: Vaughan Manufacturing Company, P.O. Box 390 Hebron, IL 60034-0390 or visit them on the Internet at wvww.vaughanmfg.com or www.hammernet.com.
More from Mechanical Power Transmission