Saw Blade minimizes woodworking waste.
Press Release Summary: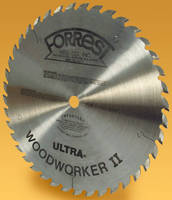 Designed to work with lighter duty saws, Ultra Thin 080 Woodworker II has .080 in. kerf and .060 in. body for minimal resistance when cutting. Blade thinness, coupled with alternate top bevel (ATB) grind, allows carbide-tipped teeth to cut with scoring action, minimizing resistance and tearout while promoting precision. Engineered from corrosion-resistant C-4 micrograin carbide, hand-straightened blade has 10 in. dia, 5/8 in. bore, 40 teeth, and 20° positive hook.
---
Original Press Release:

Forrest Manufacturing's Ultra Thin 080 Woodworker II Saw Blade



Offers Little Resistance, Minimizing Materials Loss

Super Thin Blade is Best Choice for Exotic Woods

CLIFTON, New Jersey-Cost-conscious woodworkers looking to minimize materials waste, while achieving precise cuts, now have a blade that meets their needs. Forrest Manufacturing's Ultra Thin 080 Woodworker II saw blade has only a .080-inch (5/64) kerf and provides little resistance when cutting.

A Specialized Woodworker II
The Ultra Thin 080 Woodworker II is a version of the high-performance Custom Woodworker II blade but on a thinner scale. While the custom blade has a .125-inch (1/8) kerf and a .095 body, the Ultra Thin has a .080-inch (5/64) kerf and a .060 body. It also features an alternate top bevel grind, or ATB, where the points of the carbide-tipped teeth on the blade alternate from one side to the other. The thinness of the blade coupled with the grind allows the teeth to cut with a scoring action, minimizing resistance and tearout, while improving cutting precision.

"We initially created the Ultra Thin as a custom blade, more than a decade ago," explains Jay Forrest, vice president, Forrest Manufacturing. Among the first customers were guitar makers, using exotic woods for their instruments, and manufacturers of balsa wood airplanes, seeking to reduce waste. Growing demand from architectural millworkers, fine furniture makers and hobbyists convinced the New Jersey-based company to offer the blade as a standard item.

"The Ultra Thin works with lighter duty saws and feeds easily, producing a polished cut in exotic hardwoods, such as cocobolo, Bolivian rosewood, and yellow heart." notes Forrest. "It can also be used for other hard and soft woods, as well as plywoods," says Forrest. However, depending on use, he recommends a dampener-stiffener to hold the blade rigid and reduce cutting noise and vibration.

The Ultra Thin has a 10-inch diameter, 5/8-inch-bore, 40 teeth and a 20-degree positive hook. Custom-size bores are also available.

Precision Engineering
Like all Forrest blades, the Ultra Thin is precision engineered from corrosion resistant, super-strong C-4 micrograin carbide, giving it up to 300 percent longer life between sharpenings than other carbide blades. Plus, like all Forrest blades, it is hand straightened for perfect flatness and has exceptional perimeter concentricity and side runout of +/- .001.

Made in the United States, the Ultra Thin comes with a 30-day, money-back guarantee. To ensure continued precision performance, Forrest also offers state-of-the-art factory sharpening at reasonable cost.

About Forrest Manufacturing
Forrest Manufacturing is a family-owned business founded in 1946. Well respected for its quality products and superior customer service, it produces a variety of
custom and specialty blades, including four new blades: the Signature Line Chop Master, Woodworker II 48-Tooth Blade, Two- and Four-Piece Finger Joint Sets and Thin Kerf Dados. Forrest blades are available direct from the factory, as well as from fine-quality dealers, retailers and catalogs. For more information, call 1-800-733-7111 or visit www.ForrestBlades.com.

More from Services