Saw Blade features 90 teeth and optimized angles.
Press Release Summary: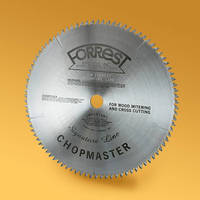 Available in 10 and 12 in. diameters with 5/8 or 1 in. center holes, Signature Line Chop Master blade cuts any wood or composite material and has angled carbide points for minimized cutting pressure without bottom splintering, side scoring, or vibration. Unit features corrosion-resistant C-4 micrograin carbide saw blade tips, optimal perimeter concentricity, minimal noise, and side runout to ±.001 in. as well as -5° hook to control feed rate.
---
Original Press Release:

Forrest Manufacturing Introduces First Saw Blade in Its New "Signature Line" Series



New Chop Master Features More Teeth with Redesigned Angles For Precise, Quiet Cutting and Better Splinter Control

CLIFTON, New Jersey, July 8, 2009 - Forrest Manufacturing has introduced the first blade in its new Signature Line of saw blades. The Signature Line Chop Master features more carbide teeth with new angles that produce a quieter cut and better splinter control with less effort.

"Our new Signature Line of blades unquestionably pushes the limits on our previous designs," says Jim Forrest, president of Forrest Manufacturing. "By adding 13 percent more teeth to our original Chop Master and redesigning the complimentary face angles, we've created the best possible precision trim blade for chop saws, sliding compound miter, and radial arm saws."

Designed for Superb Performance on Any Wood or Composite

The Signature Line Chop Master features more teeth with newly angled carbide
points to create less cutting pressure. That makes it easier for the saw blade to penetrate wood - as well as composites - run cool, and cut smoothly at any angle without bottom splintering, side scoring or vibration. The blade also has a smaller gullet - or valley between each tooth - making the blade cut quieter.
Design work on the new blade began a year ago after discussions with sales representatives and customers.

"Certain customers are always looking for a better blade to cut difficult materials like delicate pre-finished crown molding, laminated picture frame molding and composite molding," says Jay Forrest, vice president, Forrest Manufacturing.

Following product testing in the field, production began in spring 2009.
"We now have a blade that is utmost in every aspect of design, from numbers of teeth, to tooth geometry, to thickness of the steel," adds Forrest.

Precision Engineering for Durability and Quality

The new Signature Line Chop Master has 90 teeth and -5° hook to control feed rate. It is currently available in 10- and 12-inch diameters with 5/8- or one-inch center holes. Custom sizes are also available.

Like all Forrest blades, the Signature Line Chop Master features super hard, corrosion-resistant C-4 micrograin carbide saw blade tips that provide up to 300 percent longer life between sharpenings. Proprietary grinding techniques and hand straightening guarantee the finest cutting edges possible coupled with exceptional perimeter
concentricity, perfect plate flatness, and side runout to +/- .001". To ensure continued precision performance, Forrest offers state-of-the- art factory sharpening at reasonable cost. Made in the United States, the Signature Line Chop Master comes with a 30-day, money-back guarantee.

About Forrest Manufacturing

Forrest Manufacturing is a family-owned business founded in 1946. Well
respected for its quality products and superior customer service, it produces a variety of custom and specialty blades, including the Woodworker II, Dado King, Duraline, Concave Face and nonferrous cutting blades. Forrest blades are available direct from the factory, as well as from fine-quality dealers, retailers and catalogs. For more information, call 1-800-733-7111 or visit www.ForrestBlades.com.

More from Architectural & Civil Engineering Products