SATURN: SIL2-certified Fail-safe Remote I/O System Architecture for Trains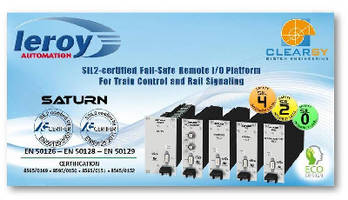 Toulouse, France -- LEROY AUTOMATION, a leading manufacturer of onboard automation systems for train control and management systems (TCMS), partnered with CLEARSY, a specialist in railway safety-critical systems, to develop and market SATURN : a cutting-edge SIL2/SIL4 fail-safe controller and remote I/O platform for train control, propulsion and rail signalling system architectures.



SATURN is a Commercial-Off-The-Shelf (COTS) platform offering a cost-effective solution to accelerate "time-to-market" and to boost transit rail car projects without incurring the elevated costs and high risks of an Independent Safety Assessment (ISA) process.



The SATURN platform is a product portfolio built on a generic concept. It supports mixed heterogeneous configurations of SIL0, SIL2, and SIL4 modules on the same unique copper cable or fibre optic-based communication network. SATURN allows system engineers to design fully integrated, efficient, and cost effective I/O management systems for train operations with both safety-critical and non-safety-critical equipment on the same data network. The SATURN platform can be expanded by adding self-contained or custom I/O modules to match any on-board application requirements. It is based on an innovative state-of-the-art dual, redundant ring communication network, and an open safety protocol fully compliant with EN 50159-2 standard.



"The SATURN concept is inherently flexible and we invite our customers to design and integrate their own SATURN-compliant I/O modules without any limits" says Thierry Servat, Managing Director of CLEARSY.



Each SIL2 SATURN module and the full SATURN platform have been independently tested and certified to meet the rigorous SIL2 requirements of the EN 50129:2003 standard, and the SSIL2 requirements of the EN 50128:2011 standard. These certifications have been performed by CERTIFER, a world leader in independent expertise of rail and guided transportation products and systems. Examination certificates along with their appendices, issued by CERTIFER, are available and can be consulted upon request.



The SATURN platform is available as a size-3U rack-mountable solution or as a standalone distributed, modular, and scalable system. It is extremely reliable, and it supports redundancy mechanisms to implement highly available remote I/O system architectures. "Moreover, the SATURN platform delivers unmatched performance with 1-millisecond timecycle", comments on David Rambaud, Technical Project Leader at Leroy Automation.



The following certified SATURN modules are available off-the-shelf:




The SIL2 gateway module which supervises the system, and acts as a dual 10/100T-BASE Ethernet-based communication gateway. It also supports the implementation of logical algorithms and Boolean tasks;



The two SI2 and SO2 remote I/O modules which respectively feature 4 SIL2 digital inputs, and 4 SIL2 relay outputs;



The SIO0 remote I/O module which features 4 SIL0 static outputs and 12 SIL0 channels, each configurable as a digital input or output;



The powerful 72Vdc power supply module which is compliant with DC-direct train battery voltage line, without the need of any DC-DC converters. Its main function is to power all the modules connected to the SATURN system.



The SATURN product line also integrates real-time diagnostics that can be utilized as interpretative data for predictive maintenance activities.



SIL4 modules are currently undergoing certification testing, and will soon be integrated into the SATURN solution product line.



Typical rail applications include on-board Train Control and Monitoring Systems (TCMS) for light-rail transit (LRT), passenger trains including subway, commuter, inter-city and high-speed rail; ComputerBased Train Control (CBTC) for automated driverless metros as well as wayside signaling equipment such as automated platform screen doors (PSD).



About LEROY AUTOMATION

LEROY AUTOMATION is a family-owned company headquartered in Toulouse (France) and with its North American subsidiary located in Montreal, Quebec (Canada). For more than 30 years, LEROY AUTOMATION has been designing, manufacturing and marketing automation products and embedded electronic equipment for on-board rolling stock vehicles, automation solutions for electrification networks, and railway, industrial & military control systems. Especially designed for harsh conditions, the company¡¦s products are suited for demanding electromagnetic and extreme thermal, as well as for high vibration operating environments. From feasibility studies and detailed engineering and design, to after-sales services, LEROY AUTOMATION partners with its worldwide customers during the complete life cycle of their products and systems. For several decades, LEROY AUTOMATION partnered with ALSTOM TRANSPORT, SIEMENS, THALES, and others in international project and product developments along with railway and mass transit authorities, industrial and military customers, system integrators and OEMs worldwide.



About CLEARSY

Based in Aix-en-Provence and in Paris, CLEARSY is a French engineering design company specialized in developing SIL1 to SIL4-level safety systems and software components. CLEARSY¡¦s engineers design complex systems, from technical notes, specifications, to operational deployment; and they undertake all stages of checking, verification, validation and safety testing. CLEARSY is particularly pro-active in the development of systems and software in the railway industry. Since 1993, CLEARSY cooperates with major rail companies such as ALSTOM, BOMBARDIER, SIEMENS, RATP, SNCF, and THALES among others. CLEARSY is also recognized for the development of ¡§Atelier B¡¨, an industrial software utility tool enabling the operational use of B-Method to develop defect-free proven software.



All trade mark and registered marks are acknowledged.



For more information, please contact:

LEROY AUTOMATION SAS

35, Boulevard du Libre-Echange

31650 St-Orens de Gameville

(France)

T. +33.562.240.550



[email protected]





LEROY AUTOMATION Inc

355, rue des Recollets

H2Y 1V9 Montreal - Quebec

(Canada)

T. +1.438.794.5166



[email protected]