SATO Provides Resort Hotel with RFID Wine Cellar Inventory Solution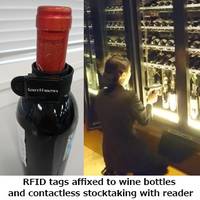 System provides drastic boost in accuracy and labor savings
Tokyo, August 2, 2018 – SATO, a leading global provider of Auto-ID solutions that empower workforces and streamline operations announced a new inventory management solution for Tokyo Baycourt Club Hotel & Spa Resort (hereafter, Tokyo Baycourt Club) using an RFID-enabled inventory management system. The system drastically optimized stocktaking operations of the hotel staff and boosted inventory management accuracy. This is the first system of its kind used by Japan's hotel industry.
Tokyo Baycourt Club is a resort hotel in Tokyo's Odaiba entertainment district operated by RESORTTRUST, INC. The stocktaking operations of its roughly 5,000 bottles of wine for its restaurants, bars and lounges previously required sommeliers to carefully and laboriously handle each bottle separately and enter details manually into the purchasing system. The hotel sought a faster and more accurate system to streamline operations.
After switching to RFID, Tokyo Baycourt Club can now scan multiple bottles with contactless operation and automatically register inventory in its purchasing system, drastically reducing time spent for stocktaking. At one restaurant in the resort, two workers previously spent eight hours apiece (16 hours total ) before switching to RFID. After the upgrade, the operation only required one staff and two hours, for an 88% labor savings.
Tokyo Baycourt Club head of operations Katsuhiro Kawamura said, "Thanks to the RFID system, we were able to both streamline our painstaking stocktaking processes and reduce the number of mistakes from human error. It also improves accuracy of inventory management by allowing us to see inventory right away, which minimizes our risk of lost bottles. We are looking at using RFID for other products and expanding the system to hotels in the future."
Tokyo Baycourt Club beverages head Katsuhiko Aihara said, "We implemented RFID as a way to strengthen our internal controls. By utilizing RFID in our stocktaking, we digitized our wine list which ensures inventory management transparency. If successful, it will allow us to go paperless and provide labor savings for refreshing our wine stocks, speeding up our response time for customers and reducing total working hours. I expect the system to provide a good return on investment."
Comparison of workload before and after implementation of RFID system at Tokyo Baycourt Club
Place used                      Staff before RFID (teams of 2)                  Hours before RFID                 Staff after RFID          Hours after RFID French restaurant                         2                                                          16 hrs                                         1                                 2 hrs 
Italian restaurant                          2                                                            8 hrs                                          1                                 1.5 hrs Throughout the hotel                  16                                                           38 hrs                                         8                                 9.5 hrs
 RFID details:
The UHF RFID tags used for this system were specially designed by SATO Material Co., Ltd. a SATO Group company that specializes in the production and sales of industrial rubber products, synthetic resins and RFID tags. Due to interference, RFID read rates are generally problematic when attached to items containing liquids. However, the wine bottle buckle-on tags developed by SATO allow for error-free reads from as far away as 50 cm. Because the tags are not directly affixed to the bottles, there is no effect on the wine quality. The RFID tags are also paired with security labels to prevent falling off or being replaced.
Other facts and features
Reusable form-fitting design for many bottle types
Requires 10 minutes per case (12 bottles) to affix
Around 10,000 bottles tagged at start of project
About SATO
SATO (TOKYO:6287) strives to be the most trusted Auto-ID solution provider worldwide, bridging the last inch of the last mile for customers in manufacturing, logistics, retail, food & beverage and healthcare through cutting edge tagging solutions. With a 5,000+ strong global workforce and 78 years of expertise, SATO engineers value-added solutions that boost accuracy, sustainability, labor and resource savings, provide reassurance and enable emotional connections. For the fiscal year ending March 31, 2018, it reported revenues of JPY 113,383 million (USD 1.02 billion*). More information about SATO can be found at www.satoworldwide.com, linkedin and twitter.
*Conversion is based on an average exchange rate of 1 US Dollar = 110.85 Japanese Yen
For Media Inquiries:
Kevin Leidheiser
Public Relations Group
SATO Holdings Corporation
grp-koho@sato-global.com
Tel: +81-3-5745-3412 
More from Machinery & Machining Tools