SAS Automation, Introduces GRZ Grippers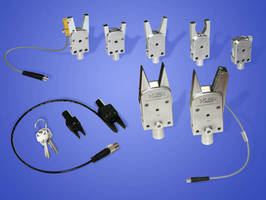 XENIA, OHIO (April 2009) – >SAS< Automation introduces a complete family of GRZ grippers – to handle parts that are very small to those that are heavy and bulky.
1. Mini and Micro GRZ Grippers – smallest grippers ever!
• New Micro GRZ 10-6 grippers weighs only 8 grams and is the smallest gripper on the market!
• New Mini GRZ 10-8C - comes with a built in sensor and weighs only 14 grams
2. All >SAS< GRZ Grippers – have been improved!
The new design body style now covers the jaw springing; thereby keeping debris or a sprue from interfering with the spring function.
3. >SAS< GRZ 20-22 GRZ 20-22C – are now bigger to handle heavier parts!
• Beefier, bigger gripper for very heavy parts.
• Jaw screws are used (versus pins)
• Hard stops are used for jaws, to modify closing positions.
This family of grippers are designed to handle parts of all sizes and weights, and are especially designed for harsh manufacturing environments demanding superior clamping power.
About >SAS< Automation - SAS< is a leading supplier of modular EOAT components, end effectors & robotic gripper systems – capable of servicing any part and any robot. >SAS< manufactures in the USA "get a grip!", and distributes "nip it!" Nile sprue nipper line, and "GRIP IT!" Asian chucking/gripper line. ISO 9001:2000 Quality Certified. Specialists in Robotic End-of-Arm tooling & Gripper systems, Sprue Nippers, CNC degating & Insert Mold tooling for manufacturing, packaging & plastics industries. Sales, service & support to: USA, Canada, Mexico, Europe.
SAS – NPE Booth #N-67063
USA Company Contact:
Rob Dalton
[email protected] Corporate Office - USA:
SAS Automation, LLC
1200 South Patton Street
Xenia, OH 45385 USA
TEL: +1 937- 372-5255
FAX: +1 937- 372-5555
[email protected]
sasgripper.com
Public Relations
Marketing Options LLC
Barbara Castilano
937-436-2648
[email protected]