Sapphire Windows withstand corrosive chemicals.
Press Release Summary: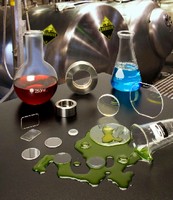 Featuring 9 Moh surface hardness, Custom Sapphire Windows are unaffected by corrosive fluids, abrasive particles, temperatures up to 1,000°C, and pressures up to 10,000 psi. Units range from ¼-10 in. in diameter and from ½ mm to 1 in. thick, making them suited for viewing inside pipes, pumps, vessels, or instruments containing caustic fluids. Windows provide 270 nm to 4.7 µm range of transmission, with up to 85% transmission uncoated and up to 99% with A/R coatings on 2 sides.
---
Original Press Release:

Sapphire Windows Withstand Corrosive Chemicals



Custom sapphire windows that can withstand exposure to seawater, slurries, and harsh chemicals, as well as high pressure and temperature environments are available from Meller Optics, Inc. of Providence, Rhode Island.

Meller Sapphire Windows feature 9 Moh surface hardness, which is second only to diamond, and are unaffected by corrosive fluids, abrasive particles, temperatures up to 1,000°C and pressures up to 10,000 psi, depending upon configuration. Manufactured to specification, from 1/4" to 10" dia. and 1/2 mm to 1" thick, they are ideal where it is desirable to view the inside of a pipe, pump, vessel, or an instrument containing caustic fluids.

Impervious to chlorine- and fluorine gas and most chemicals, Meller Sapphire Windows find use as viewports in centrifuges, analytical instruments, gas cells, high vacuum systems, photomultiplier tubes, machine tools, and oil wells. They provide 270 nm to 4.7 µm range of transmission, with up to 85% transmission uncoated and up to 99% with A/R coatings on two sides.

Meller Sapphire Windows are priced according to size, configuration, and quantity. Literature and price quotations are available upon request.

For more information contact:
Meller Optics, Inc.
Steve Lydon, Marketing
120 Corliss St. / P.O. Box 6001
Providence, RI 02940
(800) 821-0180 FAX (401) 331-0519
e-mail: steve@melleroptics.com
www.melleroptics.com

Related