Sapphire Windows offer optimized UV to MWIR transmission.
Press Release Summary: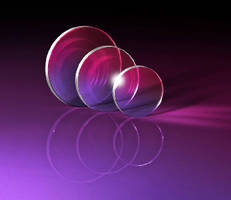 Suited for wide range of demanding applications, including imaging and spectroscopy, TECHSPEC® Precision Sapphire Windows provide broadband transmission from 0.15-5.5 μm and surface accuracy of ¼ λ. Products have high tolerance design with thermal conductivity, extreme surface hardness, and resistance to many chemical acids and alkali. Windows are available in 4 uncoated sizes of 10, 15, 20, and 25 mm diameter.
---
Original Press Release:

TECHSPEC® Precision Sapphire Windows Provide Excellent Transmission from UV to MWIR



Feature High Tolerance Design for Superior Performance



Barrington, N.J. - Edmund Optics® (EO), the premier provider of optical components, introduces its new TECHSPEC® Precision Sapphire Windows. These windows are ideal for use in a wide variety of demanding applications, including imaging and spectroscopy, as they offer superior broadband transmission from 0.15-5.5 μm.



¼λ Surface Accuracy



With excellent transmission from the UV to the MWIR, TECHSPEC Precision Sapphire Windows also provide an impressive ¼λ surface accuracy. Theyutilize a high tolerance design and take advantage of the innate characteristics of sapphire - a high dielectric constant, high thermal conductivity, extreme surface hardness and resistance to many chemical acids and alkali, which maximizes system performance. With sapphire's outstanding structural strength, TECHSPEC Precision Sapphire Windows are thinner than comparable standard glass windows, minimizing absorption.



Four models from 10 mm to 25 mm diameter available



TECHSPEC Precision Sapphire Windows are available in four uncoated sizes -- 10 mm, 15 mm, 20 mm and 25 mm diameters. All models provide ¼λ surface accuracy for outstanding precision performance. TECHSPEC Precision Sapphire Windows are in-stock and available for immediate delivery for fast turnaround and excellent value.



About EO:

Edmund Optics® (EO) is a leading producer of optics, imaging, and photonics technology for R&D, electronics, semiconductor, pharmaceutical, biomedical, and military markets around the globe. EO is the world's largest supplier of off-the-shelf optical components. Customers can purchase items by contacting EO at 1-800-363-1992, via the catalog, or via the website at www.edmundoptics.com



Company Contact:

Kirsten Bjork-Jones

Director Global Marketing Communications

Edmund Optics®, Inc.

101 East Gloucester Pike

Barrington, NJ 08007 U.S.A.

Phone: 1-800-363-1992

Fax: 1-856-573-6295

email: kbjork-jones@edmundoptics.com



European Contact:

Agnes Huebscher

Director European Marketing

Edmund Optics

Zur Giesserei 8

76227 Karlsruhe, Germany

Tel.:   +49 (0)721-62737-38

Fax:   +49 (0) 721 6273750

E-Mail:   AHuebscher@edmundoptics.de

More from Electrical Equipment & Systems