Sanitary Vee-Cone Blender discharges material completely.
Press Release Summary: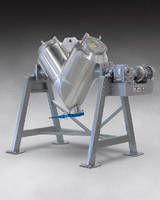 Providing 10 ft³ capacity, Model VB-10-316S features smooth internal surfaces that are free of baffles, shafts, and bearings, allowing unobstructed material flow, as well as complete discharge through gate valve. Absence of residual material, together with access to internal surfaces, allows sanitizing to prevent cross-contamination. Intended for dry and granular materials, blender achieves uniform blends in 5-15 min with equal efficiency at fill volumes from 100% to 25% of rated capacity.
---
Original Press Release:

Vee-Cone Blender Discharges Fully, Sanitizes Quickly



UTICA, NY-A new Model VB-10-316S Sanitary Vee-Cone Blender with 10 cu ft (283 liter) capacity has been introduced by Munson Machinery.

The smooth internal surfaces are free of baffles, shafts and bearings, allowing unobstructed material flow, as well as complete discharge through a gate valve. According to the company, the absence of residual material, together with easy access to internal surfaces through the discharge valve and doors at the ends of the inclined cylinders, allows rapid sanitizing to prevent cross-contamination.

Uniform blends are typically achieved in 5 to 15 minutes with equal efficiency at fill volumes from 100% to 25% of rated capacity, depending on material.

Intended for dry and granular materials, the blender provides a tumbling action that is more gentle than that of agitated machines in which blades, paddles or plows are forced through stationary material.

Since the gentle action may be insufficient to break down soft agglomerates, an intensifier bar can be utilized to impart the shear needed to reduce these materials.
Also offered is a Liquid Dispersion Intensifier Bar positioned within the mixing chamber to distribute liquids throughout the batch more thoroughly and rapidly, reducing cycle times.

Other options include Clean-In-Place (CIP) systems, abrasion-resistant steel construction for high wear applications, heating and cooling jackets, construction to ASME pressure codes, load-cell mounts for weighing of batch ingredients, and control packages from manual start/stop operation to programmable operation of all mixer functions.

Other blending equipment offered by the company includes Double Cone Blenders, Rotary Batch Mixers, Ribbon/Paddle/Plow Blenders, Fluidized Bed Mixers, Rotary Continuous Mixers and High Intensity Blenders. Size reduction machinery includes Pin Mills, Screen Classifying Cutters, Attrition Mills, Lump Breakers, Rotary Knife Cutters, Hammer Mills and Shredders.

For information contact Munson Machinery Company, Inc., 800-944-6644, info@munsonmachinery.com, www.munsonmachinery.com

More from Laboratory and Research Supplies and Equipment