Impeller / Propeller / Turbine - Agitators / Mixers
Sanitary Rotary Batch Mixer maintains batch temperatures.
Press Release Summary: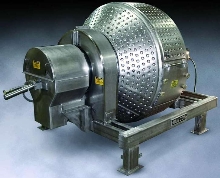 Featuring 20 ft³ capacity, jacketed Model 700-TH-20-SSJ gently blends batches of ingredients down to 1 ppm with 100% uniformity in less than 3 min while keeping materials heated or cooled. It evacuates 100% of batch and can be sanitized without tools. With material contact surfaces of 304 or 316 stainless steel, 3-A and USDA-compliant unit has rotating drum with external, removable seals and internal mixing flights that have polished welds with 0.25 in. radii.
---
Original Press Release:

Jacketed, Sanitary Rotary Batch Mixer Maintains Batch Temperatures


UTICA, NY-A new Model 700-TH-20-SSJ, 20 cu. ft. (.6 cu. m) Sanitary, Jacketed Rotary Batch Mixer gently blends batches of ingredients in parts as small as one per million with 100% uniformity in less than three minutes, while keeping materials heated or cooled, says Charlie Divine, Marketing Manager of Munson Machinery.

The mixer can be piped to an in-plant chiller to prevent heat-sensitive bulk products from agglomerating, clumping, degrading, smearing and/or sticking to contact surfaces of mixing and packaging machinery or to the final consumer packaging, or to an in-plant steam, hot water or hot oil system to maintain elevated material temperatures during processing.

"The Rotary Batch Mixer has less effect on temperature levels of materials being blended than ribbon, plow or paddle blenders because it achieves total batch uniformity 10- to 20-times faster," says Divine, "so jacketed versions afford significantly greater protection against the gain or loss of heat than by any other means."

The 3-A and USDA compliant unit reportedly evacuates 100% of the batch, and can be sanitized rapidly with no tools. Material contact surfaces are of 304 or 316 stainless, and the rotating drum has external, removable seals, while internal mixing flights are spaced for easy access and have polished welds with 0.25-inch (6mm) radii.

The unit is designed with a stationary inlet and discharge, and a rotating drum with proprietary mixing flights that tumble, turn and fold material gently while achieving 100 percent uniformity in two to three minutes, regardless of disparities in the bulk densities, particle sizes or flow characteristics of batch ingredients, according to the company.

Unlike stationary mixing vessels that leave a residual "heal" of material after discharge, the rotating vessel and internal flights of the rotary mixer are said to lift and direct the entire batch into the discharge spout for complete evacuation with no residual material or manual intervention, improving product quality and process control while facilitating rapid, thorough cleaning.

Models range in capacity from 10 to 600 cu. ft. (0.28 to 17 cu. m) and are equally effective in blending of batches that comprise between 5 to 100 percent of rated capacity, obviating multiple mixers in some cases.

The company also offers continuous rotary blenders, high intensity blenders, and ribbon, paddle and plow blenders. Size reduction equipment also produced by the company includes screen classifying cutters, centrifugal impact mills, rotary de-clumpers, attrition mills, hammer mills and shredders.

For information contact Munson Machinery Company, Inc., 210 Seward Ave., Utica, NY 13503-0855, 800, 944-6644, info@munsonmachinery.com, www.munsonmachinery.com

More from Thermal & Heating Equipment