Sanitary Hose Fittings are available in variety of materials.
Press Release Summary: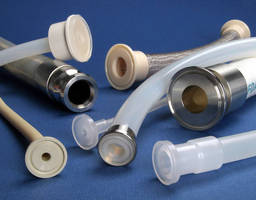 Designed for pharmaceutical, biologics, food and beverage, and chemical fluid flow applications, sanitary hose fittings include stainless steel, silicone, TPE, Hytrel®, and polypropylene options. Fittings mate with hose made from silicone, PTFE, FEP, PVC, EPDM, TPR, and TPE and are supplied attached to hose/tubing. Depending on type, fittings are offered in sanitary, pipe thread, and cam and groove styles; mini and standard Tri-Clamp styles are also available.
---
Original Press Release:

AdvantaPure® Now Offers Hose Fittings of Stainless Steel, Molded Silicone, & Other Sanitary Materials



Designed for Pharmaceutical, Biologics, Food and Beverage, and Chemical Fluid Flow Applications

Southampton, Pa. - AdvantaPure's expanded offering of fittings for sanitary hose now includes options in stainless steel, silicone, TPE, Hytrel®, and polypropylene. Providing this selection of materials allows customers to choose the most appropriate option for their application. The fittings are designed to mate with hose made from silicone, PTFE, FEP, PVC, EPDM, TPR, and TPE such as AdvantaFlex® and are furnished attached to the hose.

Each material has distinct benefits. The 316L stainless steel fittings, which are manufactured specifically for AdvantaPure, offer details such as a 15 Ra or better finish for smooth, non-contaminating flows; eight-sided designs for easier tightening in restrictive installations; and radiused edges. Sanitary, pipe thread, and cam and groove styles are available, and most are 3-A approved. AdvantaPure's line of stainless steel fittings is sterilizable, documented lot traceable with identification markings on each fitting, and documented for quality control.

Molded silicone fittings are supplied attached directly to silicone tubing or hose, while TPE fittings, made from AdvantaPure's AdvantaFlex material, are provided directly attached to Advantaflex tubing. The two choices share several characteristics. Both are well-suited for single-use applications involving aseptic transfer, sterile processing, and other critical applications in the pharmaceutical, biomedical, and high purity industries. The assemblies reduce installation time, improve cleanliness, and eliminate entrapment issues and leaks associated with barb-type fittings. They provide a smooth inner surface with a seamless transition and consistent interior dimensions for maximum flow rates. Mini and standard Tri-Clamp® styles are available. The materials differ in that silicone offers a wider temperature range (from -100°F to 400°F, -73°C to 204°C), while AdvantaFlex is sterile heat sealable and weldable, contains no silicone oils, and is not as costly.

Another option for sanitary connections is overmolded Tri-Clamp ends for PVC, TPE, and TPR tubing. Injection molded from USP Class VI Hytrel or polypropylene, overmolded ends are offered in mini and standard Tri-Clamp styles like silicone and AdvantaFlex. Hytrel and polypropylene cost less than their silicone counterparts, making them an attractive alternative for pharmaceutical, medical, surgical, food, beverage, and dairy applications. They are an excellent component for single-use systems and are easily sterilized.

For more information on AdvantaPure's fittings or to locate a distributor, contact the AdvantaPure team at 145 James Way, Southampton, PA 18966; phone 888-755-4370 or 215-526-2151; fax 888-258-4293 or 215-526-2167; e-mail: sales@advantapure.com; web page: http://www.advantapure.com/fittings.htm

About AdvantaPure and NewAge® Industries
The AdvantaPure division of NewAge Industries is ISO 9001:2008 certified and specializes in high purity tubing, hose, single use systems, manifolds, and other molded components for the pharmaceutical, biomedical, food, beverage, and chemical industries. All products are manufactured, stored, and shipped using the cleanest methods possible to ensure unsurpassed product purity. RFID systems, including gamma-irradiatable styles, are offered as well.

In business since 1954, NewAge Industries manufactures and fabricates thermoplastic and thermoset tubing in both reinforced and unreinforced styles. The company offers one of the broadest product lines of tubing and fittings in the U.S., provides extensive custom extrusion and fabrication capabilities, and services customers worldwide. NewAge Industries maintains a large inventory and prides itself on same-day shipment of 99% of orders for its core product lines. In 2006, NewAge initiated an ESOP (Employee Stock Ownership Plan) for the benefit of both its employees and customers.

AdvantaFlex®, NewAge Industries AdvantaPure®, and NewAge® are trademarks of NewAge® Industries, Inc. Hytrel® is a registered trademark of E. I. DuPont de Nemours and Company. Tri-Clamp® is a registered trademark of Alfa Laval Inc.

More from Agricultural & Farming Products