Sanitary Colloid Mills; Flow-Thru Design Assures Consistency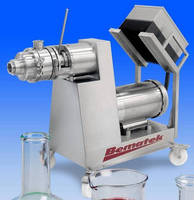 Sanitary wet-mixing colloid mills that process all particles through a single mixing head for precise size reduction, consistency and repeatability are available from Bematek Systems, Inc. of Salem, Massachusetts.

Bematek Z-Series Colloid Mills feature 316L stainless steel construction and a milling head that processes all particles through a rotor and stator; exposing them to the same shear action which assures complete consistency and repeatability. Ideally suited for manufacturing creams, lotions, and ointments, these mills include a variable frequency drive for precise speed control and adjustability, and can be integrated into any process system.

Available with rotor and stator combinations to achieve particle size reduction from pulpy slurries to customer-specific homogeneous viscosities, Bematek Z-Series Colloid Mills are capable of 10 to 10,000 GPH throughput. Fully scalable and offered for laboratories, pilot plants, and production facilities, they comply with 3A, USDA, and FDA standards. Primary applica-tions include cosmetics, food, and pharmaceutical manufacturing.

Bematek Z-Series Colloid Mills are priced from $11,995.00 up, depending upon configuration. Price quotations are available upon request.

More from Electronic Components & Devices