Sandvik Coromant's CoroTurn® HP Range of Turning Toolholders are Ideal When Using Negative Inserts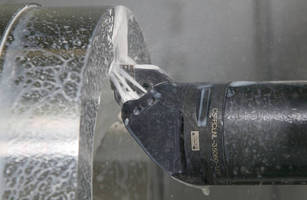 Sandvik Coromant's accurate coolant jets of CoroTurn HP improve machining performance by delivering cutting fluid at the precise point of cut

To meet rising demand for the ability to apply high pressure coolant at point-of-cut when using negative inserts, Sandvik Coromant has extended its CoroTurn® HP range of turning toolholders with integrated high pressure delivery capability. The new toolholders can offer up to 20 per cent increase in cutting speed when roughing difficult materials, and up to 50 per cent more tool life when roughing or finishing challenging workpiece materials.

Negative style inserts are often used when machining difficult materials such as heat resistant super alloys (HRSAs), titanium and stainless steel. However, there has been a lack of suitable easy-to-index toolholding technology featuring integrated high pressure coolant delivery for manufacturers in industries such as aerospace, motorsport and medical. Sandvik Coromant's extended CoroTurn HP range will help machine shops in these sectors improve chip breaking, tool life and/or cutting data.

The accurate coolant jets of CoroTurn HP improve machining performance by delivering cutting fluid at the precise point of cut, thereby removing heat more efficiently and reducing subsequent problems of accelerated wear. The technology also helps eliminate the re-machining of chips by keeping the cutting zone free of removed material, thus reducing the potential for component damage and permitting the scheduling of unmanned operations. This is particularly relevant when using multi-task turn-mill centers where chips gathering around the tool cause automatic tool change problems.

The current toolholder program is now increased with the introduction of a further 38 new toolholders in C5, C6 and C8 Coromant Capto® coupling size which are designed to accommodate negative inserts in C-, S- and D-styles.

CoroTurn HP is a pioneering coolant system, which when combined with the accurate, quick-change Coromant Capto® system, harnesses high pressure capability up to 80 bar in turning centers, vertical turning lathes and multi-task machines.

Sandvik Coromant
Sandvik Coromant is a world-leading supplier of cutting tools and tooling systems for the metalworking industry and is represented in 130 countries. 25 state-of-the art Productivity Centers located around the world provide customers and staff with continuous training in tooling solutions and methods to increase productivity. Sandvik Coromant is part of the Tooling business area of the Sandvik Group.


More from Software