Sanding Disc provides maximum stock removal on any surface.
Press Release Summary: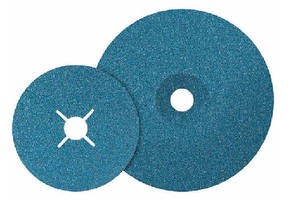 Formulated with blue zirconium grain blend to accelerate material removal, Topcut™ Sanding Disc is designed for finishing applications on steel and stainless steel. Cooler sanding helps to preserve metals and ensure they will not overheat. Discs are supplied in protective packaging designed with humidity control to preserve wheel's physical properties until ready for use.
---
Original Press Release:

Walter Surface Technologies Reveals New and Improved Topcut Sanding Disc for Top of the Line Finishing Applications



Montreal QC / Windsor, CT  – Walter Surface Technologies, the global industry leader in surface treatment technologies, introduced the new and improved Topcut™ sanding disc, one of the latest additions to the company's industry-leading finishing solutions.



The Topcut™ sanding disc now features a new formulation of blue zirconium grain blend to remove more material, faster. "This new blend contains a higher concentration of Zirconium, making it the highest performing Zirconium grade disc on the market," says Jonathan Douville, Product Manager, Surfox, E-Weld and Finishing Solutions at Walter Surface Technologies. "The new and improved discs remove material 50% faster than the previous model, and also have a longer lifespan."



The new grain blend is designed for finishing applications on steel and stainless steel and offers maximized stock removal on any given surface. The disc also guarantees cooler sanding so that the metal will not overheat. "The cooler sanding helps to preserve metals, especially the heat-sensitive material, and will result in a beautiful, finished product," continues Douville.



Topcut™ comes in Walter's exclusive 50-pack protective packaging designed with humidity control to preserve the wheel's physical properties until ready for use. This means performance is kept at the highest standard possible. Discs are also available in the standard pack of 25.



About Walter Surface Technologies

Walter Surface Technologies provides innovative solutions for the global metal working industry. From high performance abrasives, power tools and tooling to industrial parts washing systems, cleaners, degreasers and lubricants Walter focuses on helping its customers work better. Founded in 1952, the company is established in 7 countries throughout North America, South America and Europe. International headquarters is in Montreal and U.S. headquarters is located in Windsor, Connecticut. Key certification and awards include ISO 9001: 2008, Wall Street Journal Award; Deutscher Material Preiz; American Eagle Award; CleanTech Cleaning Technology Award.



Web  www.walter.com

Twitter  @waltersurftech

Facebook  Walter

LinkedIn walter-surface-technologies

YouTube TheWalterNetwork



More from Architectural & Civil Engineering Products