Press Release Summary: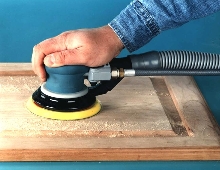 Dynorbital-Spirit 12,000 rpm, air-powered, random orbital sander has low profile housing, and comes in vacuum and non-vacuum models. It is available in 3, 3-1/2, 5 and 6 in. dia models, with 3 sanding orbit diameters: 3/8 in. dia orbit for aggressive sanding; 3/16 in. for general sanding; and 3/32 in. dia for ultra-fine sanding. It works on wood, metal, composites, solid surface, plastic, and fiberglass.
---
Original Press Release:
Dynabrade Introduces New, Lighter Series Of Air Powered Random Orbital Sanders

Dynabrade, Inc., of Clarence. New York is proud to introduce the new Dynorbital-Spirit air-powered random orbital sander. This new sander is lighter than comparable models, features a lower profile housing and is available in both vacuum and non-vacuum models.

The 12,000 RPM sander is available in 3", 3-1/2", 5" and 6" diameter models. The new sander is only 1.4 lbs. - Now the lightest Random Orbital Sander available in the world. The tool is ideal for use on wood, metal, composites, solid surface, plastic, fiberglass and various other materials

Three different sanding orbit diameters are offered; 3/8" diameter orbit for aggressive sanding. A 3/16" diameter orbit for general sanding and a 3/32" diameter orbit for ultra-fine sanding.

The Dynorbital-Spirit is available as a Non Vacuum sander. Basic Vacuum, Deluxe Vacuum, Self-Generated Vacuum and Central Vacuum-Ready Sanders are also offered. On Basic Vacuum models, an improved vacuum bag is included which features a one-micron filter rating. The bag traps 99% of vacuum particles one micron or larger. Ideal for woodworking and solid surface vacuum sanding applications.

A line of quality sanding pads is also offered. Available in different diameters, the pads are perfectly weight-mated to the Dynorbital-Spirit counter-balancer, resulting in low vibration, low run-out and a smooth operating tool. Drop in replacement motors are also available. The new motor design allows for quick and easy replacement with no adjustments needed. Saves time and expense of repairing the air motor. Made in the U.S.A.
More from Machinery & Machining Tools