Sandbagging Kit can be operated by one person.
Press Release Summary: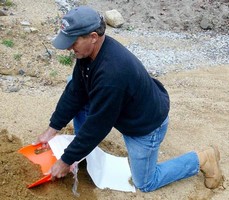 Angel-GUARD® Sandbagging Kits include EZ Bagger(TM) one-person sandbag filling tool and 50 sandbags. Weighing 7 lb, kit stores in less than 1 ft² space and can be used by people of all ages to prevent water damage to home interior and possessions. When filled to recommended level, each re-usable sandbag measures 17 in. tall by 4 in. thick and can be stacked to provide near water-tight protection for six 3 ft wide doors or windows.
---
Original Press Release:


First Sandbagging Kits Designed for and Marketed to Consumers Introduced in Florida by Angel-GUARD - Kits Enable One Person to do the Work of Two




HOLLISTON, Mass. --- Sep. 30, 2005 --- Angel-GUARD(R) Products, a company that makes safety and rescue products, today announced that the only sandbagging kits on the market designed and marketed specifically for consumers are now available in Florida.

The new Angel-GUARD Sandbagging Kits feature the patented EZ Bagger (TM) one-person sandbag filling tool that enables one person to fill sandbags by him or herself, in half the time it takes two people. The kits, also containing a supply of sandbags, are available in all Lowe's Home Improvement stores in Florida.

The EZ Bagger is an innovative tool designed to hold the sandbag open while it is being filled by one person instead of two, thus doubling the number of filled sandbags. Sandbags included in the Sandbagging Kits provide virtually water-tight protection to ground-level doors and windows of a home when filled, preventing water damage to a home's interior and possessions.

"Many people wait until flooding is imminent before taking action to protect their homes and businesses," said Scot Peterson, Angel-GUARD's vice president. "Now that our Sandbagging Kits are available locally, we're hoping that people in Florida will get the supplies they need in advance, so they'll be ready for the next natural disaster before it hits. For the small cost of the Sandbagging Kit, homeowners can prevent thousands of dollars in personal property losses."

The Sandbagging Kit with EZ Bagger is designed for one person operation and is easy for people of all ages to use. In one of Angel-GUARD's tests, a girl of only ten years old beat two firefighters in filling five sandbags with the EZ Bagger, versus the firefighters filling sandbags by traditional means.

Each Sandbagging Kit, containing an EZ Bagger and 50 sandbags, weighs just seven pounds and stores in less than one square foot of space. When filled to the recommended level, each re-usable sandbag is 17" tall by 4" thick. Stacked one-foot high, each kit will protect six three-foot wide windows or doors.

The idea for the EZ Bagger tool came to its inventor, Robert Hawley, as he watched a report about flooding resulting from a storm. "I saw two people working their hearts out filling sandbags together and trying to save their home. I thought it was ridiculous that you needed two people to fill a sandbag," he said.

Each kit costs less than $40.

About Angel-GUARD Products

Angel-GUARD Products, Inc., established in 1991, is headquartered in Worcester, Mass. The company develops and markets innovative safety and rescue products. Its flagship rescue product, Rescue Alive, is an ice rescue platform that has been used successfully to save more than 50 people since its introduction in 1994.

Angel-GUARD works with inventor groups throughout the U.S. to identify new products useful to the consumer and industrial markets. A socially responsible company, Angel-GUARD employs mentally and physically challenged individuals from local sheltered workshops for product assembly, packaging, and loading.

For more information, visit www.angelguardproducts.com.

Angel-GUARD is a registered trademark, and EZ Bagger is a trademark of Angel-GUARD Products, Inc. All other trademarks and registered trademarks mentioned herein are the property of their respective owners.

CONTACT:
Christine Shock
Holliston,Massachusetts 01746
508-893-9933 508-893-9933
cshock@shockpr.com


More from Chemicals & Gases