Samuel Strapping Systems' Completes New Equipment Install at HW Culp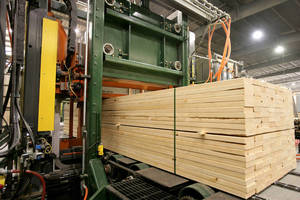 Since their start in 1925, HW Culp has been producing high quality lumber, with annual production exceeding 100 million board feet per year, for wholesale customers at competitive prices.



With this in mind, the need for a fast and reliable lumber strapper has always been important to the company; however, due to changes in the business, the previous machine was no longer up to the job.



"The lumber strapping equipment we had in place previously was unable to place the baton where we required; this resulted in a lot of downtime and starting/stopping of the machine in order to fulfill requirements"

-David Richbourg, General Manager



Towards the end of 2013, David Richbourg of HW Culp reached out to Dave Gagnon and Terry Evans of the Samuel Equipment Division to begin sourcing a new lumber strapper for the business.



Working alongside both Terry and Dave, as well as with assistance from the Engineering, Sales, and Startup teams, the transition to the new Samuel machine was flawless.



"Everybody involved including the Startup team, Engineering team, Sales team, and everyone in the office that we dealt with performed to a level beyond my expectations. Thank you to all."

-David Richbourg, General Manager



Through communication, it was determined that David was not only looking for a system which would be much more reliable but also had the ability of placing the 'baton' on the bottom, something his previous system was incapable of handling.



Since the install date of January 1st 2014, David reports that he, and everyone else with HW Culp, is very pleased with the performance of the Samuel equipment:



"We started up a new Samuel Lumber Strapping system in January and we couldn't be more pleased with the equipment.

-David Richbourg, General Manager



In terms of the effectiveness of the new machine in meeting the requirements of HW Culp, David reports



"The new equipment is better than I thought it could be, running quicker and with less interruption and maintenance than we expected. We are very pleased with our equipment from Samuel."

-David Richbourg, General Manager



HW Culp is a 3rd generation, family owned company which has been producing high quality, certified, lumber, since 1925. Not only a Sawmill, HW Culp also maintains Trucking, Wood Procurement, and Logging operations and boasts a state of the arts Planermill. HW Culp also produces a wide array of lumber byproducts, such as sawdust, shavings and chips.



Samuel Strapping Systems is one of Canada's leading suppliers of industrial packaging supplies and solutions. Their products cover multiple industries, including the forestry, metals, container, and print, and feature a full range of packaging solutions such as strapping, stretch wrapping, coding and labeling, and baling.

Related