Samtec Expands Edge Rate Family of Interconnects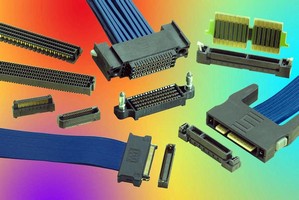 May 2008

Samtec has expanded its line of Board-to-Board and Cable-to-Board solutions featuring its rugged Edge Rate contact. These systems are designed for applications where signal integrity and durability are critical. These specially designed contacts provide superior impedance matching, reduced broadside coupling and crosstalk, and high cycle life.

Board level systems include the robust 0,8mm (.0315") pitch Edge Rate interconnect strip system (ERM8/ERF8 Series) and the high speed RiseUp® MicroCard stacking system (RU8 Series). SEARAY(TM) Open Pin Field Arrays (SEAM/SEAF Series) and DP Array(TM) Differential Pair Arrays (DPAM/DPAF Series) offer high density solutions with maximum grounding and routing flexibility.

Cable-to-Board systems include the signal integrity optimized 0,8 mm (.0315") pitch, 50 ohm micro coax Edge Rate strip (ERCDA Series) and 100 ohm Twinax Data Bank high speed/high density systems (GCCA/GCAM Series), as well as the 100 ohm Twinax MicroCard assembly (EEDP Series).

Pricing begins at .08 / line in production volume.

For more information on Samtec's complete line of Edge Rate systems, contact: Samtec, Inc. P.O. Box 1147 New Albany, IN 47151-1147 Phone: 1-800-SAMTEC-9. or 812-944-6733 Fax: 812-948-5047 Internet: www.samtec.com E-mail: info@samtec.com.

More from Electrical Equipment & Systems