Samtec Adds New Rugged, Power & I/O Interconnect Products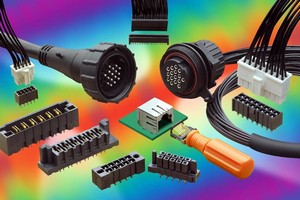 Samtec has added new rugged interface products, including PowerStrip/35 high power interconnects, AccliMate(TM) and LifeJack(TM) I/O interfaces and Tiger Eye micro rugged discrete wire system, to its standard product offering.

PowerStrip/35 high power connector strips (PES/PET Series) can handle up to 35 amps and are available as an all power interface, or as a combination signal/power system (PESC/PETC Series) with up to 8 power pins and 40 signal pins.

AccliMate(TM) IP68 sealed circular (SCRX/SCPX Series) panel and I/O interfaces are now available for use in power, micro pin-and-socket, USB and Ethernet applications, and can be terminated to the board with a variety of standard rugged interfaces, including Power Mate(TM) and Mini Mate® connectors. Samtec's unique LifeJack(TM) (MDOS-LJ Series) can provide nearly unlimited RJ45 modular jack cycles with a field replaceable contact system.

Tiger Eye discrete wire system (SFSD/TFSD Series) is the ultimate in rugged micro board-to-board interconnects. This discrete wire system mates with Samtec's popular SFM/TFM Tiger Eye connectors for high cycle applications.

For more information on Samtec's complete line of Rugged, Power & I/O Interconnect Products, contact:

Samtec, Inc.

P.O. Box 1147

New Albany, IN 47151-1147

Phone: 1-800-SAMTEC-9. or 812-944-6733

Fax: 812-948-5047

Internet: www.samtec.com

E-mail: info@samtec.com.


More from Controls & Controllers