Sampling Oscilloscope provides TDR/TDT analysis.
Press Release Summary: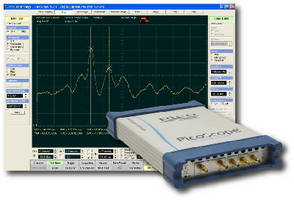 Stimulating device under test using 2 independently programmable 100 ps step generators, PicoScope 9211A builds accurate performance picture from sequence of reflected or transmitted pulses via 12 GHz sampling inputs. Results can be displayed as volts, ohms, or reflection coefficient against time or distance. In addition to TDR and TDT analysis, PicoScope 9211A can be used for mask-limit testing communications standards and is suitable for analyzing cables, connectors, circuit boards, and ICs.
---
Original Press Release:

Saelig Debuts 12GHz TDR/TDT Sampling Oscilloscope



Pittsford, NY, USA: Saelig Company, Inc. has introduced PicoScope 9211A - a new, economical instrument specifically designed for time- domain reflectometry, providing a low-cost method of analyzing the real-world functionality of cables, connectors, circuit boards and IC packages.

PicoScope 9211A stimulates a device under test using two independently programmable 100-ps rise-time step generators, and builds up an accurate performance picture from a sequence of reflected or transmitted pulses via its 12 GHz sampling inputs. The results can be usefully displayed as volts, ohms or reflection coefficient against time or distance - and at a cost far less than previously available.

As well as time-domain reflectometry (TDR) and time- domain transmissometry (TDT) analysis, PicoScope 9211A can also be used for mask- limit testing communications standards such as Ethernet, InfiniBand 2.5G and 5.0G, XAUI, ITU G.703, ANSI T1/102, RapidIO 1.25G and 3.125G, G.984.2, PCI Express 2.5G and 3.0G, and Serial ATA 1.5G and 3.0G. Over 150 industry-standard masks are included.

PicoScope 9211A features three trigger inputs: a DC to 1 GHz direct trigger, a 1 to 10 GHz prescaled trigger, and a 12.3 Mbps to 2.7 Gbps clock- recovery trigger - as well as an internal 10 Gbps software pattern sync trigger for averaging Eye- diagrams.
Unlike traditional, bulky bench-top instruments, PicoScope 9211A takes up very little bench space. The analyzer connects to a Windows PC via its USB 2.0 port, but an Ethernet port is also provided for remote operation over a network.

PicoScope 9211A is available now at $10,999.00 from Saelig Company Inc. Pittsford NY, and includes all necessary calibrated cables, filters, power splitters and adaptors. For detailed specifications, free technical assistance, or additional information, please contact Saelig (toll free in the US) 1-888-7SAELIG, via email: info@saelig.com, or visit www.saelig.com

Contact Information

email: info@saelig.com

phone / fax: 585-385-1750 / 585-385-1768

web: www.saelig.com

More from Agricultural & Farming Products