Sample Management System can manage multiple consumable types.
Press Release Summary: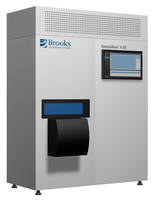 SampleStore™ II SE helps laboratories manage small to mid-size sample collections comprised of tubes, vials, and plates with one automated storage solution. Designed for libraries of 50,000–300,000 1.4 ml tubes at temperatures of -20 to +20°C, modular and scalable solution delivers flexibility and cold-chain management across diverse storage applications. Strata® UI facilitates sample storage and retrieval while promoting sample information management, scalability, and integration with LIMS.
---
Original Press Release:

Brooks Introduces SampleStore(TM) II SE Sample Management System with Flexibility to Manage Multiple Consumable Types



CHELMSFORD, MASSACHUSETTS, USA — Brooks Life Science Systems, the global leader in automated cold-chain sample management for drug discovery and biostorage applications and a division of Brooks Automation, Inc. (Nasdaq: BRKS), has introduced the SampleStoreTM II SE, an extension of its SampleStore II automated storage solutions portfolio that can manage a wide range of consumable types.



"With the flexible SampleStore II SE, laboratories now can efficiently manage small to mid-size sample collections comprised of a range of tubes, vials and plates with a single automated storage solution," said Christopher McNary, vice president and chief commercial officer, Brooks Life Science Systems. "In addition, an enhanced information management system allows the new storage solution to be used as a standalone unit or integrated with a broader enterprise IT strategy. The SampleStore II SE offers the optimal combination of flexibility and cold-chain management across a broad base of storage applications" said McNary.



The modular SampleStore II SE solution is designed for libraries of 50,000 to 300,000 1.4 ml tubes at temperatures of -20° C to +20° C. It is scalable with expansion modules to meet future needs and can fit through a standard laboratory door.



The system's intuitive Strata® user interface, used across all of Brooks' automated storage systems, makes it easy to store and retrieve samples. The Strata software also enables comprehensive sample information management, scalability, and integration with laboratory information management systems (LIMS).



"For users new to automation, the SampleStore II SE is ideal as a standalone solution for automated inventory management of chemical and biological samples," said McNary. "Existing automated storage customers might apply the system for decentralized storage of focused or targeted chemical libraries employed in high-throughput screening (HTS) or lead optimization applications."



The SampleStore II SE solution is part of Brooks Life Science System's comprehensive and trusted sample management portfolio. It uses proven, highly reliable Brooks automation and refrigeration technology, and is backed by the company's global service and technical support network.



For more information, visit http://www.brooks.com/products/life-science-systems, e-mail blss.sales@brooks.com, call 1-858-527-7000 or follow us on LinkedIn, Twitter and Facebook



About Brooks Automation

Brooks is a leading worldwide provider of automation, vacuum, and instrumentation solutions for multiple markets including semiconductor manufacturing, life sciences, and clean energy. Our technologies, engineering competencies, and global service capabilities provide customers speed to market, and ensure high uptime and rapid response, which equate to superior value in their mission-critical controlled environments. Since 1978, we have been a leading partner to the global semiconductor manufacturing market and through product development initiatives and strategic business acquisitions; we have expanded our reach to meet the needs of customers in the life sciences industry, analytical & research markets, and clean energy solutions. Brooks is headquartered in Chelmsford, MA, with direct operations in North America, Europe, and Asia. For more information, please visit www.brooks.com.



Barbara Culhane, Corporate Marketing Manager, Brooks Automation, Barbara.culhane@brooks.com, 978-262-2816

Don Goncalves, Tiziani Whitmyre, Inc., dgoncalves@tizinc.com, 781-793-9380

More from Software