Sample Dilution/Injection System suits GPC chromatography.
Press Release Summary: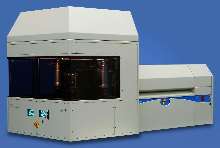 Suited for Gel Permeation Chromatography (GPC), PL XT-R is based on robotic platform and integrates sample preparation and autosampling functions. Product supports all GPC chromatographs operating in temperature range from 30-220°C. Up to 96 sample-filled vials are accommodated in blocks in X-Y array. Solvent-filled vials are subjected to controlled heating and magnetic stirring. System includes robotic arm dispenser, heated injection valve, and heated transfer line.
---
Original Press Release:
New Sample Handling System for GPC: PL XT-R

Polymer Laboratories is pleased to launch a new sample dilution and injection system for GPC, which has ambient to high temperature capability and provides increased efficiency, excellent repeatability and enhanced operator safety. The PL XT-R is based on a robotic platform, integrating both sample preparation and autosampling functions, and can be interfaced with any GPC chromatograph.

Sample-filled vials are loaded in blocks in an X-Y array accommodating up to 96 vial positions. The robotic arm dispenses a defined volume of solvent into the vials which are then subjected to controlled heating (up to 220°C) and magnetic stirring. After dissolution of the sample, the solution is delivered to the GPC chromatograph via an on-board heated injection valve (with optional filtration) and compact heated transfer line. All the robotic functions, including solvent dispensing, sample delivery, sequencing and valve operation, are software controlled and the complete system is housed in an extracted enclosure ensuring minimal operator contact.

The PL XT-R is designed to support all GPC chromatographs operating in the temperature range 30-220°C.

Polymer Laboratories is exhibiting at PittCon 2003 on booth number 671

For more information, please contact Polymer Laboratories Inc, Amherst Fields Research Park, 160 Old Farm Road, Amherst, MA 01002, tel 413 253 9554 fax 413 253 2476 email PLInfo@polymerlabs.com

website www.polymerlabs.com


Related