Sample Chambers meet research application requirements.
Press Release Summary: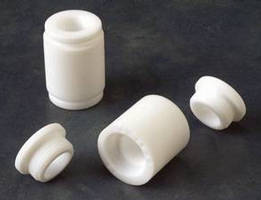 Offered with one chamber and 2 caps, Ultra-Fast DIALYZER(TM) has double-sided, 24 mm dia chamber that promotes sample exposure and exchange rates. Reusable sample chambers are made of PTFE, and volumes range from 50-1,500 µL. Products support range of membranes with molecular weight cut offs of 100, 500, 1K, 2K, 5K, 10K, 25K, 50K, 100K, and 300K Daltons. Applications include electro-dialysis, electro-elution, elution of proteins and nucleic acids from gels, and electro-concentration.
---
Original Press Release:

NEW Ultra-Fast Dialyzer(TM)



The NEW Ultra-Fast DIALYZER System from Harvard Apparatus is compact, easy to use and designed to meet the wide range of applications found in research.

The new unit has a double sided, 24mm diameter chamber thus increasing the diameter from 18mm to 24 mm. The increased diameter results in a larger surface area for sample exposure and enhanced exchange rates.

The Ultra-Fast DIALYZER(TM) chambers can be used for a wide range of applications including Electro-Dialysis, Electro-Elution, Elution of Proteins and Nucleic Acids from Gels and Electro-Concentration.

The dialyzer comes with a chamber and two caps. Membranes are sold separately.

Harvard Apparatus Ultra-Fast DIAYLZERS(TM) support a broad range of membranes with molecular weight cut offs of 100, 500, 1K, 2K, 5K, 10K, 25K, 50K, 100K and 300K Daltons.

The new reusable sample chambers are made of PTFE for high sample recovery. The new design provides larger membrane surface areas for even faster dialysis rates. The units range from 50 µl to 1,500 µl volume.

*This increases the surface area which will increase the rate of dialysis by ~20%.

For additional information on the Ultra-Fast DIAYLZERS(TM) go to www.harvardapparatus.com or contact
Harvard Apparatus
84 October Hill Road
Holliston, Massachusetts 01746 USA
Toll Free: 800-272-2775
Phone: 508-893-8999
Fax: 508-429-5732
E-mail: [email protected]
Web: www.harvardapparatus.com

For Research Use Only. Not for use in humans unless proper investigational device regulations have been followed.

Harvard Apparatus is a global developer, manufacturer and distributor of innovative and specialized products to enhance bioresearch.