Saint-Gobain Explains How Small Parts Will Make a Big Difference to the Automotive Industry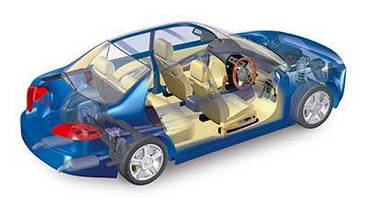 Ahead of international car interiors conference Automotive Seating Reloaded 2013, Germany, Saint-Gobain has announced its vision for the future of the industry. Escalating price wars between leading brands and vehicle lightweighting, necessitated by carbon emissions reduction legislation, have driven down profit margins, placing car makers globally under greater pressure than ever before to streamline production costs. To overcome these issues, Saint-Gobain, a leading engineering components supplier, explained that small parts, such as NORGLIDE® composite bearings and RENCOL® tolerance rings, make a significant difference to manufacturing efficiency and automotive performance, not just in interior systems, but throughout the car.



Janaki Weiden, Global Marketing Director for NORGLIDE® Bearings and RENCOL® Tolerance Rings, Saint-Gobain, said: "International regulations for the automotive industry are strict and competition in our globalised industry is fiercer than ever before. Car manufacturers must find component solutions for their systems that provide a perfect fit between regulatory compliance, high performance for customers and their own production line needs. Getting this right is crucial to retain access to worldwide markets and safeguard market share. This will be our focus at Automotive Seating Reloaded 2013."



Automotive Seat Adjustment ComponentsSaint-Gobain works closely with key partners to develop smart, customised composite bearing and tolerance ring solutions to overcome these challenges not just for use in the interior, but throughout the exterior, powertrain and steering systems. The unique polytetrafluoroethylene (PTFE) liner and tailored shape and geometries of NORGLIDE® composite bearings compensate for misalignments and ensure a perfect fit between mating components in pivots of powered seats and automated door closures, simplifying assembly process by tolerance compensation. This is achieved without the need for time-consuming adhesive or energy-intensive press fitting, while providing smooth movement over lifetime for end users.



RENCOL Tolerance Ring for Auto Tailgate HingesThe manufacturer's sprung metal RENCOL® tolerance rings, with split-ring construction and the cushioning wave-like protrusions along their circumference, eliminate the need for adhesive, welding or direct press fitting of mating components, reducing costly machining requirements. When used in areas, such as the automated tailgate hinge, the tolerance ring allows the Original Equipment Manufacturers (OEMs) to implement fewer and lighter engineering components, creating weight and space savings to enhance the smart design of the automobile.



The perfect fit achieved through the material thickness and wave shape compensates for thermal expansion during automobile operation, preventing the parts becoming loose and thus eliminating rattle if the car is traversing rough terrain. Furthermore RENCOL® tolerance rings in automated tailgate applications offer overload protection. Tolerance rings' wavelike protrusions allow them to act as slip clutch mechanism protecting the motor from overheating and the gear teeth from being damaged by excessive force. This contributes to the vehicle's long life, ensures high performance and increased comfort for end users, enhancing their perception of vehicle quality.



"There is no 'one-size-fits-all' approach to meeting the challenges facing the industry today", explained Mirko Hundertmark, Global Market Manager, Automotive Interior for NORGLIDE® Bearings and RENCOL® Tolerance Rings, Saint-Gobain. "It is crucial that OEMs work closely through the entire supply chain to create the most appropriate solutions for their technologies, production processes, and target markets. This collaboration will play a central role to steering the automotive industry towards prosperity and growth in the long term."



More from Electrical Equipment & Systems