Sahara Oven Ships Custom Drying/Curing Oven to Electrical Transformer Manufacturer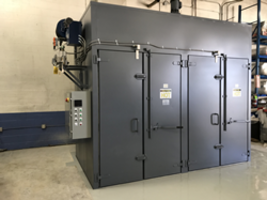 Sahara Industrial Ovens announced the shipment of a custom Dryer/Curing Oven to an electrical transformer manufacturer in Middlefield, Ohio. The custom Drying/Curing oven will be used to cure/heat magnetic windings. To make low-noise transformers, the windings must be kept tight. During the curing process, the metal windings expand, and gaps are introduced, which cause the transformers to be noisy. The customer eliminated this problem by applying a DC voltage to the transformer during the curing process. The magnetic field created by the DC voltage pulls the windings together and holds them in place until the curing cycle is complete. This practice allowed the customer to construct significantly lower noise transformers.
SHEFFIELD VILLAGE, OHIO (PRWEB) MAY 09, 2019 - Standard Sahara Ovens are also available for quick delivery and are available as either gas fired or electric heated in three temperature ranges, 350˚F up to 800˚F.
Unique features of this custom dryer oven included: 
Uni-flow air flow
Temperature uniformity of ±10˚F
Touch Screen Display
Date & Time function for shut-off at end of cycle
Fume extracting fan automated at door open/close
Sensor break recovery
At the event of a sensor failure the temperature controller will switch instantaneously to the alternative thermocouple thus allowing the process to complete and avoid lost cure cycle
About Sahara Ovens 
John Benko started the company in 1983 with two ideas that would revolutionize an industry. The first was an elevating tank truck platform that would ultimately become the G-RAFF Elevating Tank Truck Platform, and the second was the Sahara Hot Box, an energy saving Drum Warming Oven designed to heat from one (1) to thirty-two (32) 55-gallon drums. Benko Products specializes in Drum Heaters and Drum Ovens.
Benko Products applied its mission of engineering excellence to become the most respected leader in drum warming ovens, and it utilizes that same principle with its extensive line of industrial ovens and furnaces.
Contact Information
Benko Products, Inc. 
5350 Evergreen Parkway 
Sheffield Village, OH 44054 
(t) 440-934-2180 
(f) 440-934-4052 
E-Mail: Info@BenkoProducts.com
Contact Information
Holly Monchein
Benko Products
http://www.benkoproducts.com
4409342180
More from Fluid & Gas Flow Equipment