Sahara Hot Box Class a Drum/Tote Oven from Benko Products Safely Heats Flammable Materials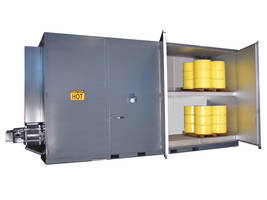 Sheffield Village, OH - March, 2017 - Benko Products, Inc., a leading innovator in industrial ovens, announces that its line of Sahara Class A ovens is suitable for safely heating volatile materials.
NFPA 86 classifies ovens and furnaces in which flammable volatiles or combustible materials are present in the work space as Class A. As such, constant powered exhaust is required to keep the solvent load in the oven below the lower explosive limit (LEL) and properly sized explosion relief (determined by oven volume) is required.
Every Sahara Oven can be designed to meet Class A requirements. Each features PID temperature control, independent overtemperature control and air circulation for precise temperature control and temperature uniformity. Robust, all welded construction ensures that the ovens can withstand the rigors of constant pallet loading/unloading and forklift abuse.
Please note, electrically heated ovens are not suitable for use in Class 1 designated areas. Steam, hot water and hot oil heated ovens can be made suitable for use in Class 1, Division 1 areas. Please contact a Benko Products Sales Engineer to recommend a safe heating method for your flammable drums and totes. With over 30 years of experience designing and building drum/tote heating ovens, Sahara is the oven that industry trusts. Benko Products offers a complete line of Sahara Drum/Tote Ovens to heat from 1 to 32 drums or 1 to 8 totes.
For more information contact Benko Products, Inc. at (440) 934-2180 or go to www.benkoproducts.com to request an online quotation.
About Benko Products, Inc.
Benko Products, Inc. is a privately held company based out of Sheffield Village, OH. Benko Products was founded in 1983 by pioneer John Benko, the inventor of the Sahara Hot Box® drum warming oven. Benko's leading product lines also include industrial batch ovens; G-RAFF safety platforms; mezzanine safety gates and chemical storage systems. Benko is also the parent company to GREEN Access & Fall Protection, a leading manufacturer of gangways for tank trucks and rail cars as well as self-leveling stair applications.
Media Contact:
Holly Monchein,
Marketing Director
(440) 934-2180
Sales Leads Contact:
Laurie Hull,
Sales Manager
(440) 934-2180
More from Fluid & Gas Flow Equipment