Safewalk Anti-Fatigue Mat from Crown Mats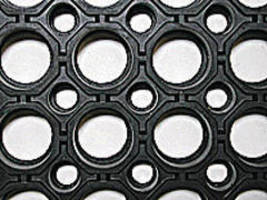 The Safewalk-Light Anti-Fatigue floor mat from Crown Mats and Matting is made of ½-inch thick molded rubber and has ¾-inch circular drainage holes, making it perfect for use in wet or dry environments and areas with heavy foot traffic.



It also helps reduce worker fatigue, and because of the drainage holes, the surface area stays dry and slip resistant, helping to prevent slips and falls.



Easy to clean and maintain, the Safewalk-Light Anti-Fatigue floor mat meets OSHA and Americans with Disabilities Act standards for quality assurance.



For more information, visit www.crow-mats.com or call toll-free: 800-628-5463.



Providing educational articles and information for the professional cleaning, building, hotel, hospitality, medical, and educational industries.







More from Machinery & Machining Tools